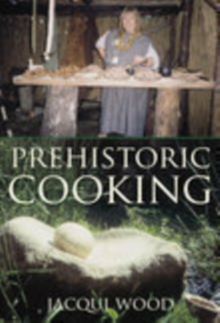 Prehistoric Cooking
Paperback / softback
Description
If you imagine that our ancient forbears ate weak gruel, some meat, and bread so hard that it was practically inedible, Jacqui Wood's study and recreation of ancient cooking methods and recipes will be a revelation.
Based on experimental archaeology at the author's world-famous research settlement in Cornwall, this book describes the ingredients of prehistoric cooking and the methods of food preparation.
A general overview of the lifestyle of our prehistoric ancestors is followed by detailed sections (plus cookbook-style recipes) on: bread; dairy foods; meat, fish and vegetable stews; cooking with hot stones; clay-baked food; salt and the seashore menu; peas, beans and lentils; herbs and spices; vegetables; yeast, wine, beer and teas; sweets and puddings.
At the end of the book you will realise that a barbecue in the summer need not be sausages on a gas cooker; it could be fish wrapped in grasses and clay, baked in a fire pit at the end of the garden, followed by sweet fruit, seaweed jelly and washed down by Neolithic wine.
Information
Format: Paperback / softback
Pages: 192 pages
Publisher: The History Press Ltd
Publication Date: 01/10/2001
Category: General cookery & recipes
ISBN: 9780752419435