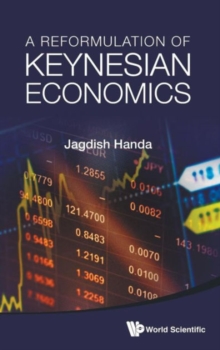 Reformulation Of Keynesian Economics, A
Hardback
Description
John Maynard Keynes' response to the extreme distress of the early years of the Great Depression produced The General Theory, which represented an overhaul of the macroeconomics inherited by his generation.
The economic upheaval (including the Great Recession) since 2008 raised serious doubts about the relevance of economics as it had come to be formulated and taught by the beginning of this century.
While numerous books and articles have addressed the current distress of economies through contributions to specific parts of macroeconomics, none has offered an attractive alternative that represents a general overhaul of the macroeconomics inherited by the current generation.
A Reformulation of Keynesian Economic does so, and provides a modern integrated version of macroeconomics for the modern economies as they function.This book's many insights and innovations include: discarding the classical concepts of the long run and the short run in favour of the behavioural concepts of the planning period (the long term) and the short term (the operating period); discarding the exogenous production function in favour of an endogenous one; distinguishing between the short-term and the long-term production functions; replacing the dynamic stochastic notional general equilibrium (DSGE) approach for the short term by a more general one that permits effective equilibrium and disequilibrium in specific markets; and, a reformulation of the financial sector analysis and of the Keynesian business cycle theory.This thoroughgoing revision of macroeconomics is must-read for macroeconomists, policymakers and graduate students.
It can even be used as a textbook by instructors who question the inherited orthodoxy built around the DSGE model and are looking for an alternative formulation of macroeconomics.
Information
Format: Hardback
Pages: 572 pages
Publisher: World Scientific Publishing Co Pte Ltd
Publication Date: 04/09/2015
Category: Economic theory & philosophy
ISBN: 9789814616096