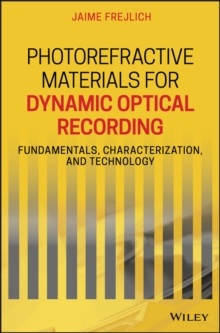 Photorefractive Materials for Dynamic Optical Recording : Fundamentals, Characterization, and Technology
Hardback
Description
A comprehensive and up-to-date reference on holographic recording Photorefractive Materials for Dynamic Optical Recording offers a comprehensive overview of the physics, technology, and characterization of photorefractive materials that are used for optical recording.
The author, a noted expert on the topic, offers an exploration of both transient and permanent holographic information storage methods.
The text is written in clear terms with coherent explanations of the different methods that allows for easy access to the most appropriate method for a specific need. The book provides an analysis of the fundamental properties of the materials and explores the dynamic recording of a spatial electric charge distribution and the associated spatial electric field distribution.
The text also includes information on the characterization of photorefractive materials using holographic and nonholographic optical methods and electrical techniques, reporting a large number of actual experimental results on a variety of materials.
This important resource: Offers an in-depth source of information on the physics and technology of all relevant holographic recording methodsContains text written by a pioneer in the field--Jaime Frejlich's research defined the field of dynamic holographic recordingPresents a one-stop resource that covers all phenomena and methodsIncludes a review of the practical applications of the technology Written for materials scientists, solid state physicists, optical physicists, physicists in industry, and engineering scientists, Photorefractive Materials for Dynamic Optical Recording offers a comprehensive resource on the topic from the groundbreaking expert in the field.