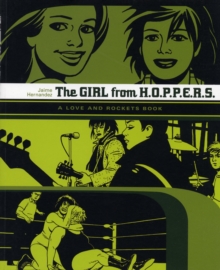 Love and Rockets : Girl from H.O.P.P.E.R.S.
Paperback / softback
Description
In 1982, brothers Gilbert and Jaime Hernandez created "Love & Rockets", an astonishing mixture of magical realism, science fiction, and meditations on the human condition which became one of the most critically acclaimed series of all time.
Follow the continuing adventures of the spunky Maggie Chascarillo, her annoying best friend and sometime lover Hopey and their circle of friends, including bombshell Penny Century, weirdo Izzy and her gangster broher Speedy, would-be boyfriend Ray Dominguez, Hopey's no-talent punk band and wrestlers Vicki Glori and Rena Titanon.
Award-winning writer and artist Jaime Hernandez presents the second collection of "Love & Rockets" stories - a must for any fan of truly adult comics!
Information
Format: Paperback / softback
Pages: 288 pages, b/w comic strip illustrations
Publisher: Titan Books Ltd
Publication Date: 28/09/2007
Category: Comics and Graphic Novels
ISBN: 9781845765262