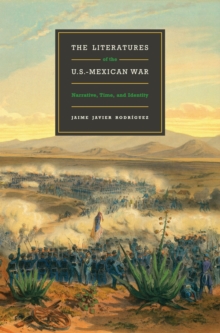 The Literatures of the U.S.-Mexican War : Narrative, Time, and Identity
Paperback / softback
Description
The literary archive of the U.S.-Mexican War (1846-1848) opens to view the conflicts and relationships across one of the most contested borders in the Americas.
Most studies of this literature focus on the war's nineteenth-century moment of national expansion.
In The Literatures of the U.S.-Mexican War, Jaime Javier Rodriguez brings the discussion forward to our own moment by charting a new path into the legacies of a military conflict embedded in the cultural cores of both nations. Rodriguez's groundbreaking study moves beyond the terms of Manifest Destiny to ask a fundamental question: How do the war's literary expressions shape contemporary tensions and exchanges among Anglo Americans, Mexicans, and Mexican Americans.
By probing the war's traumas, anxieties, and consequences with a fresh attention to narrative, Rodriguez shows us the relevance of the U.S.-Mexican War to our own era of demographic and cultural change.
Reading across dime novels, frontline battle accounts, Mexican American writings and a wide range of other popular discourse about the war, Rodriguez reveals how historical awareness itself lies at the center of contemporary cultural fears of a Mexican "invasion," and how the displacements caused by the war set key terms for the ways Mexican Americans in subsequent generations would come to understand their own identities.
Further, this is also the first major comparative study that analyzes key Mexican war texts and their impact on Mexico's national identity.
Information
Format: Paperback / softback
Pages: 320 pages, 15 b&w photos
Publisher: University of Texas Press
Publication Date: 01/05/2011
ISBN: 9780292728936
Free Home Delivery
on all orders
Pick up orders
from local bookshops
Also by Jaime Javier Rodriguez