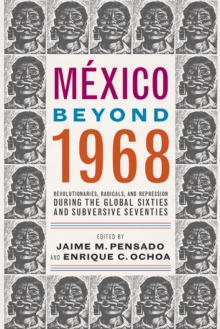 Mexico Beyond 1968 : Revolutionaries, Radicals, and Repression During the Global Sixties and Subversive Seventies
Paperback / softback
Description
Mexico Beyond 1968 examines the revolutionary organizing and state repression that characterized Mexico during the 1960s and 1970s.
The massacre of students in Mexico City in October 1968 is often considered the defining moment of this period.
The authors in this volume challenge the centrality of that moment by looking at the broader story of struggle and repression across Mexico during this time.
Mexico Beyond 1968 complicates traditional narratives of youth radicalism and places urban and rural rebellions within the political context of the nation's Dirty Wars during this period.
The book illustrates how expressions of resistance developed from the ground up in different regions of Mexico, including Chihuahua, Guerrero, Jalisco, Mexico City, Puebla, and Nuevo Leon.
Movements in these regions took on a variety of forms, including militant strikes, land invasions, cross-country marches, independent forums, popular organizing, and urban and rural guerrilla uprisings.
Mexico Beyond 1968 brings together leading scholars of Mexican studies today.
They share their original research from Mexican archives partially opened after 2000 and now closed again to scholars, and they offer analysis of this rich primary source material, including interviews, political manifestos, newspapers, and human rights reports.
By centering on movements throughout Mexico, Mexico Beyond 1968 underscores the deep-rooted histories of inequality and the frustrations with a regime that monopolized power for decades.
It challenges the conception of the Mexican state as ""exceptional"" and underscores and refocuses the centrality of the 1968 student movement.
It brings to light the documents and voices of those who fought repression with revolution and asks us to rethink Mexico's place in tumultuous times.
Information
Format: Paperback / softback
Pages: 360 pages
Publisher: University of Arizona Press
Publication Date: 30/09/2018
Category: History of the Americas
ISBN: 9780816538423
Free Home Delivery
on all orders
Pick up orders
from local bookshops