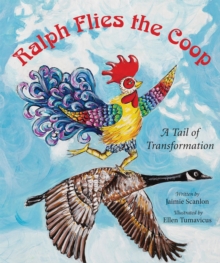 Ralph Flies the Coop : A Tail of Transformation
Hardback
Description
A timely story by witty wordsmith Jaimie Scanlon, complete with richly detailed, whimsical illustrations by Ellen Tumavicus; Ralph Rooster takes children on a round-the-world journey, capturing the power of travel and language learning to connect us with others and teach us about ourselves.
It's life as usual on the farm until the pivotal moment when Ralph Rooster overhears the other animals complaining about his early morning racket and lazy habits. a| Ralph would soon learn that big trouble was brewing.
The ducks were all quacking. The cows were all mooing, and the pigs were disgruntled about the same thing, snorting, "That Ralph Rooster acts like he's fit to be king!" With feathers ruffled and pride tarnished, Ralph decides to leave the only home he has ever known.
Flying the coop by the light of dawn, he embarks on a horizon-expanding global adventure. "...He was gone by sunrise on the back of a goose. Feeling fancy and free and a little footloose." With plucky travel companion Goose by his side, Ralph visits colorful, far-flung destinations, making friends and learning to say "Cock a doodle doo!" in the local language.
In each new location, he embraces the opportunity to engage in enriching cultural experiencesasamba dancing in Rio, visiting the Great Pyramid on camelback, learning tai chi in Beijingawhich begin to transform his character both inside and out.
Ralph returns to the farm a humbler, wiser global citizen with a new appreciation for home and community, and a desire to share all the wonders the world has in store.
Ralph's journey reminds us all that great things can happen when we put aside fear and embrace what is new and different.
Information
Format: Hardback
Pages: 36 pages
Publisher: Green Writers Press
Publication Date: 06/09/2016
Category: Picture storybooks
ISBN: 9780996897341
Free Home Delivery
on all orders
Pick up orders
from local bookshops