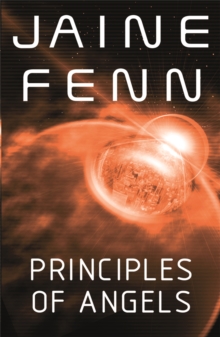 Principles of Angels
Paperback
Description
Khesh City floats above the surface of the uninhabitable planet of Vellern.
Topside, it's extravagant, opulent, luxurious; the Undertow is dark, twisted and dangerous.
Khesh City is a place where nothing is forbidden - but it's also a democracy, of sorts, a democracy by assassination, policed by the Angels, the elite, state-sponsored killers who answer only to the Minister, their enigmatic master.
Taro lived with Malia, his Angel aunt, one of the privileged few, until a strange man bought his body for the night, then followed him home and murdered Malia in cold blood.
Taro wants to find the killer who ruined his future, but he's struggling just to survive in the brutal world of the Undertow.
Then an encounter with the Minister sets him on a new course, spying for the City; his target is a reclusive Angel called Nual.Elarn Reen is a famous musician, sent to Khesh City as the unwilling agent of mankind's oldest enemy, the Sidhe.
To save her own life, she must find and kill her ex-lover, a renegade Sidhe. Though they come from different worlds, Taro and Elarn's fates are linked, their lives apparently forfeit to other people's schemes.
As their paths converge, it becomes clear that the lives of everyone in Khesh City, from the majestic, deadly Angels to the barely-human denizens of the Undertow, are at risk. And Taro and Elarn, a common prostitute and an uncommon singer, are Khesh City's only chance ...
Information
Format: Paperback
Pages: 320 pages
Publisher: Orion Publishing Co
Publication Date: 12/02/2009
Category: Science fiction
ISBN: 9780575083295
Free Home Delivery
on all orders
Pick up orders
from local bookshops
Reviews
Showing 1 - 4 of 4 reviews.
Review by FicusFan
16/06/2015
This is dystopian SF story set on a domed habitat above a dead planet. It had 2 of my favorite things: Domes and Angels ( no relation to heaven or religion).The wealthy citizens live above the plate in Khesh City, and the poor, non-citizens live underneath in what they call Undertow. It is a warren of vanes, small rooms, and gaps for water condensation traps, where people have to move carefully or fall to their deaths. The underclass is run by gangs, and like Renaissance Italy the territory and the people wear colors to designate which gang they belong to, and where they are allowed to go. Khesh City is full of wonders and attracts tourists from all over. They come to see the only Democracy run by assassination. People not only vote politicians into office, but vote to assassinate those who are in disfavor or who get caught breaking the rules. Regluar people can be killed also, because murder is not against the law. The agents of the city who police the rules and do the assassinations are called Angels. They are altered humans who have built-in weapons, faster reflexes, better senses and the ability to hover and fly (no wings). The Minister who rules the city elevates them from the local population. The story is of a local downsider, Taro, who was related to an Angel - and that link guaranteed his future, but she is illegally killed, and he loses his place in society. He must now kowtow to an underside gang to find shelter, water, food and safety. He is a teen whose job is prostitution.Elarn Reen is an off-world visitor, and famous musician who chants ancient religious plainsongs. She is normally reclusive but has organized a tour that stops in Khesh City. While there she searches for a young woman lost to her, Lia Reen. But all is not what it seems. Elarn is not acting of her own will, and is an agent for a secret alien power, long thought dead. The dead aliens are the builders of the ancient, self-perpetuating city, and the former masters of humanity.Another group who are playing games. and not what they seem to be are a politician, Consul Vidoran who was marked for assassination, (the angel missed due to Taro) and his bodyguard Scarrion- an off-world assassin called a Screamer who should not be mixing into the affairs of the city. They become mixed up with Elarn, while lying to her about what they want. Tario is after the bodyguard Scarrion because he killed his aunt Malia the Angel and stole her weapon. Complications ensue and the city itself becomes threatened.I found the story to be a very amusing allegory of where society is heading. Loved the idea of voting for the death of politicians (probably just after televised executions become old hat). Characters were interesting, story was good if a bit standard. The writing was good. Lite on the explanation of the Angels, but still a fun read.
Review by Mardel
16/06/2015
Once I was able to concentrate solely on this novel, I found myself absorbed by it. The different characters had distinctly different voices. Jaine Fenn did a wonderful job of drawing these characters, making them stand out from each other. I also enjoyed the dialog (one of my pet peeves) - found each character's way of speech consistant and "fitting" each person. Written in third person - I also found the narration interesting and not once was I bored with info-dumps or huge chunks of explanations. There may have been a few things that seemed a bit involved, but I was able to keep reading and eventually understand what was happening, or understand the different levels of people/society. I think the author put a lot of thought into building her world and her different societies and fringe societies. I also enjoyed the way she let the reader learn little bits here and there without overwhelming me with too many details and long explanations.As soon as I finished Principles of Angels I ordered the second novel in this trilogy (or is it a four-bit now?). According to Fenn's website, the second book takes place at the same time as the first, though on a different planet. The third book has the characters of both first and second books coming together for a story. Looking forward to it.Note, that if you're squeamish about prostitution or drug use, there is some of that going on. For me, that's not any worse than reading about murder and violence, though - so it doesn't bother me to read about, especially when it seems to be an accepted part of life in a story's society.Very interesting read that has me wanting to read more. Just different enough to satisfy my SciFi cravings and Fantasy cravings at the same time.
Review by wyvernfriend
16/06/2015
This one was a bit of a slog for the first 100 or so pages but about half-way through things started to move for me. This is the first book in a sequence so there was a certain amount of setting up the world and giving flavour, but in other ways it didn't satisfy, I nearly gave the book up but decided to give it just a little bit more time and suddently everything seemed to start to move.Khesh City floats above the surface of the uninhabitable planet of Vellern. The politicial system is ruled by assasination which is policed by Angels, elite assassins who obey the Minister. Taro lives with Malia, his Angel aunt until she is killed. Then he has to live in the underbelly of the world. Elarn Reen is a famous singer who visits the city to do some concerts, however her real mission is hidden, she fears those who have made her do what they want her to do, to kill her ex-lover Lia, a renegad Sidhe, the aliens who used to rule humanity.It felt like the author was trying to use as many cool ideas as possible and the plot got lost in the cool.
Review by reading_fox
16/06/2015
Dark SF - with tones of Alistair Reynolds about it. Quite a nasty beginning but it gets less explicit if not any happier as the story progresses and our 'hero' makes progress. The world building is particularly good, with the details of a floating city well imagined, and a complex society working around it.Taro is pretty much at the bottom of the heap, in a gutter gang clinging ot the underside of the city, literally. Surviving as a male prostitute to the amusement of galactic visitors in the posh upper reaches, who have come to experience a city where nothing (or almost) is illegal. His life is in turmoil after his mother took 'the fall' - she was killed by a client who had followed him home. But she had beensomeone special - one of only 33 Angels in the city. the elected lawkeepers who were allowed to use their modified bodies to kill politicians who stepped out of line - a true voice of the people Angels all came from the lower classes. Interspersed with Taro's story is that of Eleen, and unmodifide (hence rare) singer making her first tour, and while here searching for any details of her missing friend. Her arrival goes almost instantly wrong when she's beset by muggers, but fortunetly rescued by a suave politician one Salik, who has an unsavory bodyguard. I dislike stories where we're constantly flicking between characters, but this doesn't work too badly even if it disjointed at the beginning and unnecessarily cliffhangerish at the end. Leaving one character in mid-air to tend to another doesn't increase tension it increases annoyance. That asside - and the very violent scences of gang life, the world building is superb, and the plot clever enough to carry through the at times somewhat stiff characters. The Angels don't actually feature that much, but their principles as of hte titiel do have an important part to play.Not recommended for anyone of a delicate nature, this is interesting gritty SF and I'm curiosu to see where the rest of the seres goes.