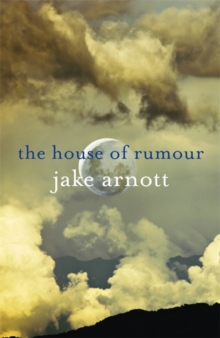 The House of Rumour
Hardback
Description
Larry Zagorski spins wild tales of fantasy worlds for pulp magazines.
But as the Second World War hangs in the balance, the lines between imagination and reality are starting to blur.
In London, spymasters enlist occultists in the war of propaganda.
In Southern California, a charismatic rocket scientist summons dark forces and an SF writer founds a new religion.
In Munich, Nazis consult astrologists as they plot peace with the West and dominion over the East. And a conspiracy is born that will ripple through the decades to come.
The truth, it seems, is stranger than anything Larry could invent.
But when he looks back on the 20th century, the past is as uncertain as the future.
Just where does truth end and illusion begin? THE HOUSE OF RUMOUR is a novel of soaring ambition, a mind-expanding journey through the ideas that have put man on the moon yet brought us to the brink of self-destruction. What will you believe?
Information
Format: Hardback
Pages: 416 pages
Publisher: Hodder & Stoughton General Division
Publication Date: 01/07/2012
ISBN: 9780340922729
Other Formats
Paperback from £8.85
EPUB from £4.99
Free Home Delivery
on all orders
Pick up orders
from local bookshops
Reviews
Showing 1 - 3 of 3 reviews.
Review by MayaP
16/06/2015
I loved this book. It took me a while to love it, but once the connections start to engage, it snaps into sharp focus and the structure of the whole comes plain. It is a complicated novel and very difficult to review.A series of episodes, a set of lives loosely linked are woven together: the strange prophetic novel that seems to predict Rudolph Hess's flight to Scotland, a young writer of pulp SF and his relationship to a cult that is connected to Aleister Crowley who is connected to a secret service agent who is connected to Rudolph Hess who is connected to a notorious transvestite who is connected to a confused singer turned actor who is making a film based on an old SF story that brings us back to the pulp writers. It all comes around in the end, full circle, connecting - not neatly or nicely, but very satisfyingly.I don't know enough about the Tarot to know if the episodes follow its story of the Fool's journey or if that's a conceit; since Jake Arnott uses the Crowley Tarot rather than the classic deck and since Crowley appears as in the story and the theme of occultism runs through it, I assume it's highly significant and I should probably read more about it. Quantum entanglement is another theme, and other theories of quantum physics, and it draws a lot of inspiration from Michael Coleman Talbot and the hologramatic universe theory.It took a while to 'get' it – who are these people, how can they possibly have anything In common? But as you keep reading the thing begins to develop a definite WOW factor. The artistry of it is stunning; it reminds me of those pictures that were so popular when I was a student, you peer endlessly into what seems to be a bank of impenetrable colour and then, suddenly, you see the image, everything snaps into sharp focus, everything becomes clear.It took about 5 days bedtime reading for this book to become something I couldn't wait to pick up again each night. Stick with it, it takes time to develop but it's definitely worth it. It's not a book for everyone, it's certainly not the page-turning thriller the cover blurb suggests, but if enjoy a challenging novel that requires you to think a little, or you have any interest at all in quantum physics, you'll love it.
Review by elmoelle
16/06/2015
I received this book as a giveaway on another website, so I approached it having no idea what it was about. Initially, the disparate threads of characters and stories didn't seem very promising, but I ended up being blown away. This book uses a series of interlocking characters and the theme of science fiction to tell a story of the 20th century, with highlights including a member of the Jonestown cult who believes she has had contact with aliens, a british spy who accidentally allows secrets about psychological warfare during world war two to be stolen by the transvestite he is sleeping with and a modern era actor and singer who takes those stolen secrets and looks for someone to pass them along to, all while looking over his shoulder for the scientologists he fears. Not to mention that an early portion of the book features a writer's group with members like Robert Heinlein and L. Ron Hubbard.<br/>Despite the fact that some of these things sound like they could amount to an unsatisfying "wackiness" they do not because the author both really seems to believe in the humanity of his characters and has a wide range of references that he is well versed in, which bring his oddities into a deeper context. <br/>My favorite section of the book involves a person reading a science fiction story about a homeless man who believes he is an alien, who has been sent to earth to observe. With what he took from the story and a sermon he hears from a black muslim preacher, the reader, who is a former lover of the jonestown cult member, finds real hope in the idea that maybe all homeless people are higher beings. <br/>I would really recommend this book to anyone who enjoys science fiction as well as anybody who likes historical fiction that looks at how popular culture both reflects and shapes the rest of history.
Review by dbsovereign
02/03/2016
Some of this book is brilliant, but other parts seem a bit disjointed and confused – or at least that was my first impression. Not a science fiction book, it is filled with sci-fi writers and a couple of stories. Not a mystery in the traditional sense, it is filled with strange parallels and mysterious circumstances. I suppose my main qualm is with the structure loosely based on the trump cards in the tarot deck – a structure at once engaging and yet somewhat artificial. Fun to read, but it just didn't really seem to hold together or to be going anywhere. I enjoyed the fact that it is a mish-mash of spy story, mystery, philosophical meandering etcetera, and love the blending of real and imagined characters, but just what is it all about? Nevertheless, it made me think and that's worth four stars in/of itself.