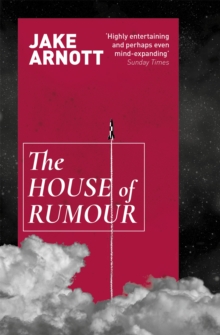 The House of Rumour
Paperback
Description
A mind-bending, thrilling journey into 20th-century history and outer space - 'a brightly coloured portrait of our times that is alternatively intimate and epic . . . brilliant' (Independent on Sunday). In 1941, Larry Zagorski was a naive young writer of science-fiction.
Seven decades on, he looks back on that crucial year and traces his place in a mysterious web - one that connects the Second World War with the Space Age, stretches from London to Cuba and Southern California, and links Ian Fleming with Rudolf Hess in a conspiracy that reverberates in the present.Could this be the secret history of the 20th century?
In a mesmerising novel peopled by spies and propagandists, the conned and the heartbroken, dreamers and fanatics, the question is: who will you believe?
Information
Format: Paperback
Pages: 416 pages
Publisher: Hodder & Stoughton General Division
Publication Date: 01/03/2013
ISBN: 9780340922736
Other Formats
Hardback from £13.49
EPUB from £2.99
Free Home Delivery
on all orders
Pick up orders
from local bookshops
Reviews
Showing 1 - 2 of 2 reviews.
Review by Eyejaybee
16/06/2015
A departure from Arnott's previous milieu of retro crime set in gangland London, this novel moves into global conspiracy theory territory. The action moves around from the burgeoning science fiction community in early 1940s California, where Larry Zagorski is struggling to make a living by publishing space adventure stories, through wartime London and Germany up to the current day where the obituary of a senior MI5 official making alluringly oblique references to a near scandal involving transvestite prostitutes. Well, that always works for me!The story takes the form of separate narratives from a range of different characters and chronicles the actions of a lurid cast, including many historic figures such as Ian Fleming, aspiring MI5 officer and subsequently creator of James Bond, near legendary thaumaturge Aleister Crowley, cult science fiction novelsit Robert Heinlein and L Ron Hubbard, founder of the Church of Scientology and the concept of dianetics. However, most prominent among the real people featuring in the novel is Hitler's crony, Reichsmarshall Rudolph Hess, captured by the Allies after his bizarre solo flight to Scotland and subsequently imprisoned in Spandau until his suicide in 1987.Arnott has always been adept and conjuring engrossing plots, and here he weaves his conspiracy theory with subtlety and conviction. There are interesting sidebars, too - Larry Zagorski's ex-wife winds up in Jonestown where she succumbs to the mass suicide which left hundreds dead.Occaionally I felt that Arnott might be succumbing to his own ingenuity where the integrity of the plot wavered under the weight of its own complexity, but overall this was an engaging and engrossing read.
Review by riverwillow
16/06/2015
I read this book for bookclub and frankly when I finished it I wasn't that impressed. Its a well written book and I really liked how Arnott structured the book, using each of the cards of the Tarot Major Arcana as the theme for each chapter and the merger of fact and fiction. Unfortunately some of the things I liked also weaken the book, having a different theme and main central character for each of the chapters fractures the narrative. The merging of fact and fiction also doesn't quite work, mainly because the facts and the characters drawn from history are so vibrant, indeed some of the real events and characters are so outlandish you couldn't make it up, whereas the fictional characters feel two-dimensional.The discussion at bookclub didn't change my mind about these faults, but we had a long and intense discussion about so many things, history, religion, science while trying to work out just what Arnott was trying to achieve with the book, that I can't still say that I'm indifferent to the book, I'm just not sure what I am.