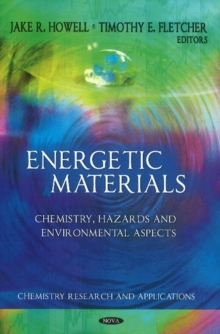 Energetic Materials : Chemistry, Hazards & Environmental Aspects
Hardback
Description
Energetic materials including propellants, explosives, and pyrotechnics are chemical compounds or mixtures that store significant quantities of energy.
Nano energetic materials (nEMs) have the potentials of improved performance in terms of energy release, ignition, and mechanical properties compared to their bulk counterpart or microcounterpart.
In this book, by comparing with traditional energetic materials, advantages of nEMs are first shown and explained.
The characterisation, modelling, and application of nEMs are also introduced, and the different approaches to the synthesis of nEMs are presented in detail.
In addition, Remote Explosive Scent Tracing (REST) is a strategy adopted to detect landmines and/or unexploded ordinances (UXOs) by taking samples of air/dust/soil from suspected areas and presenting to animal detectors (dogs and rats) in remote laboratories.
A critical review of the methods that have been used so far to extract explosive compounds from soil samples are presented.
The methods are broadly classified into laboratory extractions and on-site analysis extractions.
Moreover, this book focuses on the use of oxide semiconductors system combining organic dyes for the direct photo-splitting water for hydrogen generation.
The topics covered include three main approaches in addressing the problems of efficiency, durability, and cost of water photolysis.
The challenges facing in realising highly efficient and durable photolytic system are also presented and possible solutions have been explicited.
Other chapters review the use of dinitrogen pentoxide as an environmentally-friendly nitrating agents and brings the coverage of this topic up to date.
Laser initiation of energetic materials is also explored, as well as the production, handling and use of 2,4,6-trinitrotoluene (TNT), one of the most heavily produced chemical compounds in the 20th century.
Information
Format: Hardback
Pages: 243 pages, b/w photos, tables & charts
Publisher: Nova Science Publishers Inc
Publication Date: 01/07/2010
Category: Chemical engineering
ISBN: 9781608762675
Free Home Delivery
on all orders
Pick up orders
from local bookshops