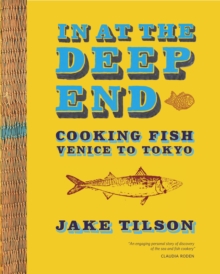 In at the Deep End : Cooking Fish Venice to Tokyo
Paperback
Description
For as long as Jake Tilson can remember he has always been scared of fish.
Mysterious ice-laden market stalls have been sidestepped and intimidating seafood recipes left safely on the shelf, while the few occasions he has attempted to cook it have met with disaster.
In at the Deep End sees the award-winning artist, designer, writer and cook finally overcome his last culinary taboo by travelling the globe on a quest to buy, prepare and cook fish and seafood.
An evocative, marvellously layered and wonderfully illustrated exploration of Jake's many experiences with fish, this delightful food memoir and recipe book catalogues his journey from fish-phobic to seafood obsessive. Whether cooking mussels in Sydney or sprats in Sweden, visiting the fish markets of Tokyo or snorkelling on the Great Barrier Reef, Jake's unquenchable interest in every aspect of the sea and fish cookery is unstoppable.
His acute eye and enticing culinary experiments and recipes make In at the Deep End a book to be read, savoured, used and, above all, enjoyed.
Information
Format: Paperback
Pages: 224 pages, Over 1000 colour photographs
Publisher: Quadrille Publishing Ltd
Publication Date: 01/09/2011
Category: Cooking with fish & seafood
ISBN: 9781844009756
Free Home Delivery
on all orders
Pick up orders
from local bookshops
Reviews
Showing 1 - 1 of 1 reviews.
Review by presto
16/06/2015
Combining an illustrated travelogue with recipes which centre on fish, In at the Deep End follows what seems to be very much a trend with cookbooks today, although this one has something of a difference too.The journey and the recipes take us an a would tour visiting Venice, Tokyo, Sweden, Scotland, New York, Sydney, London and the Great Barrier Reef. Personal recollections of the destinations visited are followed by a number of recipes gathered there. Although the book is subtitled Cooking Fish . . . it perhaps should rather be Cooking Seafood, for there are many recipes based on various crustacea and even a few on seaweed. The recipes are for the most part straight forward and not overloaded with ingredients, they are clearly presented and include a few introductory words from the author. The majority of the recipes involve more than just cooking a fish, rather the fish is combined with other ingredients to make a complete dish, or to make various fish cakes. The dishes are sometimes illustrated, but far from always.So what is different about this cookbook? Firstly is is written by someone who has (or rather had) an aversion to cooking fish. But more significantly this is entire production is the work of one man, text, photography and graphic design are all the work of the author: an artist, designer, writer and cook. The result is an exciting visual experience, with a profusion of colour photographs of both fish and place, interesting typography and occasional little sketches all adding interest. While most of the pictures are self-explanatory, they are not captioned, so there is the occasional frustration of not knowing what or where. Many of the recipes are shown against something other than plain white background which in a few cases can be distracting. But overall this is an interesting collection and certainly one that tempts the taste buds.Much more than a cookbook.