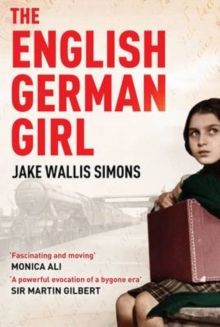 The English German Girl
Paperback
Description
This powerful, meticulously researched novel is a moving tale of one girl's struggle against a world in turmoil.
In 1930s Berlin, choked by the tightening of Hitler's fist, the Klein family are gradually losing everything that is precious to them.
Their fifteen-year-old daughter, Rosa, slips out of Germany on a Kindertransport train to begin a new life in England.
Charged with the task of securing a safe passage for her family, she vows that she will not rest until they are safe.
But as war breaks out and she loses contact with her parents, Rosa finds herself wondering if there are some vows that can't be kept ...A sweeping tale of love and loss, with the poignant story of the Kindertransport at its heart, this is an exceptional accomplishment from one of Britain's bravest and most vibrant young writers.
Information
Format: Paperback
Pages: 368 pages
Publisher: Birlinn General
Publication Date: 01/05/2011
ISBN: 9781846972089
Other Formats
EPUB from £3.99
CD-Audio from £17.95
Free Home Delivery
on all orders
Pick up orders
from local bookshops
Reviews
Showing 1 - 2 of 2 reviews.
Review by kiwifortyniner
16/06/2015
This book tells of the kindertransport system where German children are sent alone to england to live with a fmamily there. In this book Rosa (15) is sent to live with relatives in London that she does not know. What a hard decision for a parent to have to make and for a child to have to accept. But it is a decison that the parents made expecting that they would soon be reunited with their chid as soon as they are able to get a job in England and all the relevnat documents. Rosa struggles to help her parents in this way but war breaks out beofre she is able to succeed. This is Rosa's story telling of how she copes in a very different country and what she makes of her life.she is always hoping and waiting for the time when the war is over and she will be reunited with her parents a nd brother and sister agian. This was a story I really enjoyed. I did not know of the kindertransport system, and I really felt for both Rosa and her family having to make and live with the consequences of such a decision. This is a book well worth reading.
Review by macygma
16/06/2015
Just when it's time to settle into Fall and think Autumn thoughts I read The English German Girl by Jake Wallis Simons, one of Britain's up and coming authors. A tale of the Kindertransport of WWII moving Jewish children to Britain for safety. Promises were made that they wouldn't be gone forever and that parents and other siblings who didn't get a visa would be waiting when they came home. There were no homes to come back to and, sadly, not many family members, either.Rosa Klein is the child of wealth when we meet her. Her father is a doctor and her mother cares for her three children faithfully. Older brother, Heinrich, is outspoken and brash and little sister, Hedi, has apparent issues with development but Mama soldiers on. Rosa is the mainstay of the family at nine years old, just old enough to have friends, go to the bakery alone and enjoy life in Berlin.Fast forward six years. Things have changed – immensely. Father has lost his job because he is Jewish and the family is living in a slum. A friend who is a policeman brings them some food when he can and they spend all day, every day, at embassies trying to get passports or visas to leave Germany with no luck. Finally, Rosa's uncle offers to take her and arrangements are made to go to Britain which, of course, is having it's own issues with Germany. Uncle Gerald and Aunt Mimi are expecting a nine-year old girl and get a blossoming fifteen year old in stead. Mimi is immediately put off and wants her to go back but that can't be done. Rosa becomes a housekeeper for them although treated fairly well – until their son goes off to warm, is injured and returns. Then things begin to change. All Rosa wants is peace which is in short supply.This book broke my heart. I loved it, hated it and read every page into the night. I couldn't put it down because I was afraid I would miss something! A true depiction of the damages done to families in WWII, both German and British. If you are a history buff or just like a true story made fiction this is a must read.