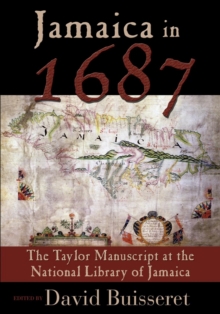 Jamaica in 1687 : The Taylor Manuscript at the National Library of Jamaica
Paperback / softback
Description
This remarkable description of Jamaica in the 1680s was written by a contemporary English observer, John Taylor, who spent some months on the island.
The original manuscript is held by the National Library of Jamaica, and has rarely been used by scholars.
It contains information about Jamaica under the Spaniards, about the English invasion of 1655 and about the formation of the subsequent society, including the treatment of slaves.
There are sections on the island's settlement and architecture, including a particularly full description of Port Royal.
John Taylor sets out fifty current laws, many of them unknown to other such collections.
He also carefully explains the nature of Jamaica's birds, beasts and plants. Taylor offers an image of the island before the general spread of sugar cultivation, citing some creatures now extinct in Jamaica; he also makes many suggestions about the medical use of natural products.
His world is still one in which certain places are enchanted, though he also describes an island whose main features will be entirely familiar to modern Jamaicans.
His language is a piquant mixture, drawn from medieval England, from North America and even from the Orient, reflecting the fact that this was the first period of major English commercial expansion.
Information
Format: Paperback / softback
Pages: 354 pages
Publisher: University of the West Indies Press
Publication Date: 15/02/2011
Category: History of the Americas
ISBN: 9789766402365
Free Home Delivery
on all orders
Pick up orders
from local bookshops