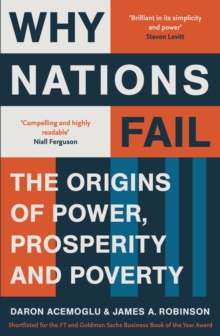 Why Nations Fail : The Origins of Power, Prosperity and Poverty
Paperback
Description
Shortlisted for the Financial Times and Goldman Sachs Business Book of the Year Award 2012.
Why are some nations more prosperous than others? Why Nations Fail sets out to answer this question, with a compelling and elegantly argued new theory: that it is not down to climate, geography or culture, but because of institutions.
Drawing on an extraordinary range of contemporary and historical examples, from ancient Rome through the Tudors to modern-day China, leading academics Daron Acemoglu and James A.
Robinson show that to invest and prosper, people need to know that if they work hard, they can make money and actually keep it - and this means sound institutions that allow virtuous circles of innovation, expansion and peace.
Based on fifteen years of research, and answering the competing arguments of authors ranging from Max Weber to Jeffrey Sachs and Jared Diamond, Acemoglu and Robinson step boldly into the territory of Francis Fukuyama and Ian Morris.
They blend economics, politics, history and current affairs to provide a new, powerful and persuasive way of understanding wealth and poverty.
Information
Format: Paperback
Pages: 560 pages
Publisher: Profile Books Ltd
Publication Date: 01/02/2013
Category: Economics
ISBN: 9781846684302
Free Home Delivery
on all orders
Pick up orders
from local bookshops
Reviews
Showing 1 - 2 of 2 reviews.
Review by mbmackay
16/06/2015
This is a very annoying book. The authors have a thesis that makes much sense and seems to explain much about development and the failure to develop. However, the presentation of that thesis is poor.The big idea is that sustained development is only possible where there are inclusive political and economic institutions. Development is possible in the absence of these two factors, but it will not be sustained - USSR is given as an example.This big idea is used to explain why, for example, decolonisation of Africa has not resulted in sustained development - the extractive colonial institutions have largely been maintained with the extraction diverted to the local powerful elite, rather than the colonial power.The fundamental problem with the book is that the definition and description of "inclusive" political and economic institutions is cursory. It seems to be assumed that the concept will be understood. This results in what is almost a circular argument - where development hasn't happened, there will be extractive institutions. The book uses historical example to further the argument, but there far too much detailed history and not enough detailed analysis of the institutions in the historic examples. The history is well presented and relevant, but is not tightly linked to the hypothesis.Towards the end of the book, the authors make a prediction that China cannot continue to develop without creating inclusive political and economic institutions. This is a very big call. They could be right, but it is likely that there will be multiple factors involved. For example, the one-child policy is going to lead to a very severe demographic crunch that will adversely impact on output. And, the crunch may lead to political and social tension that will be difficult to manage in a non-pluralist system. But this is not explored. Variations on the theme are not pursued. The authors have one trick in their bag, and it starts to seem that it is used to explain life, the universe and everything. In fact, I became so annoyed at the lack of subtlety in this book that it took me two attempts to finish it.So, an important and probably correct idea, poorly presented in this book. Close, but no cigar. Read February 2013.
Review by Mothwing
16/06/2015
It's makes its main points, "democracy and a certain level of centralisation are important for success" and "extractive regimes cause nations to fail" over almost 500 pages, with many examples. I enjoyed it, overall, and I believed it, though I am not knowledgeable enough to fact-check the economy behind it all. <br/><br/>Towards the end, it seemed to grow tame, too. I'd have wanted a more detailed insight into the US and other western states, because though the book keeps making the point that extractive regimes lead to the downfall of a nation, nowhere does it take the plunge and say what else these regimes can look like and that they don't need to be governments. It seems pretty clear that if you look at the US in the right light, the very companies who shrotlisted it as their book of the year have an awful lot in common with the extractive people causing the poverty in millions throughout history.
Also by James A. Robinson