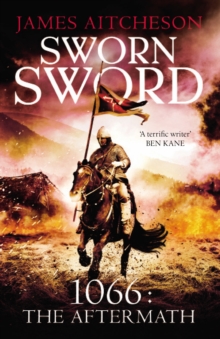 Description
It's January 1069. Less than three years have passed since Hastings and the death of the usurper, Harold Godwineson.
In the depths of winter, two thousand Normans march to subdue the troublesome province of Northumbria.
Tancred a Dinant, an ambitious and oath-sworn knight and a proud leader of men, is among them, hungry for battle, for silver and for land.
But at Durham the Normans are ambushed in the streets by English rebels.
In the battle that ensues, their army is slaughtered almost to a man.
Badly wounded, Tancred barely escapes with his life.
His lord is among those slain. Soon the enemy are on the march, led by the dispossessed prince Eadgar, the last of the ancient Saxon line, who is determined to seize the realm he believes is his.
Yet even as Tancred seeks vengeance for his lord's murder, he finds himself caught up in secret dealings between a powerful Norman magnate and a shadow from the past.
As the Norman and English armies prepare to clash, Tancred begins to uncover a plot which harks back to the day of Hastings itself.
A plot which, if allowed to succeed, threatens to undermine the entire Conquest.
The fate of the Kingdom hangs in the balance...
Information
Format: Paperback
Pages: 432 pages
Publisher: Cornerstone
Publication Date: 15/03/2012
Category: Historical fiction
ISBN: 9780099559412
Free Home Delivery
on all orders
Pick up orders
from local bookshops
Reviews
Showing 1 - 1 of 1 reviews.
Review by BrokenTeepee
16/06/2015
Tancred is a knight following his lord as they move into Northumbria post Hastings. It's 1069 and things are not settled for William the Conqueror in England, especially in the North. In a surprise attack while Tancred and some of his men are out scouting the town is attacked and his Lord, Robert Commines is killed. Wounded while fighting, he and two friends managed to escape and find help for Tancred's wound the next town up. There Tancred reluctantly agrees to a task for a new lord despite wanting to stay, fight the enemy and be the one to kill Edgar the Aethling - the one who leads the rebels and therefore responsible for the death of his former master.And the woman he continues to dream about. Who he knew for about six months, couldn't communicate with because he speaks French and she spoke English but hey, the sex was good. He still mourns her. Endlessly.His sword arm itches a lot too. In fact if it itched one more time I was going to take a sword and cut it off. I appreciate that Tancred is a warrior. I appreciate that Tancred wants to fight but seriously there has to be another way to express it other than his sword arm itching. I did read an ARC so maybe this was corrected in the final copy.Maybe I shouldn't type reviews when I have a headache. My two major complaints being expressed I can write that I did find the book readable.The author's note in the back indicates that it is based in history and that many of the characters did exist. It's a first book for Mr. Aitcheson and I would imagine that he will get better with Tancred as he goes forth in the world. Tancred needs some maturity. For a man that leads men into battle he has a very short fuse and he is really not too bright. He is a warrior as we are told ad nauseum and he wants to fight - see arm itching - but there is a lot more to a good book than battles. Characters need depth and scenes need development. I'll give the next book in the series a try - I'm not ready to give up on our hero just yet.
Also in the The Conquest series | View all