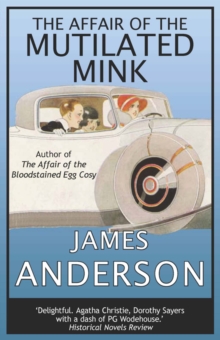 The Affair of the Mutilated Mink
Paperback
Description
The Earl of Burford can't believe his luck; Rex Ransom, his favourite star from the 'talkies', and his hot-shot producer, Haggermeir, want to film their next feature at Alderley, the family's seventeenth-century country estate.
Somewhat less enthusiastic is the Countess, who suddenly finds herself hosting an impromptu house party for the incoming Hollywood crowd.
It's almost too much for poor Merryweather, the family's imperturbable butler, to cope with. And that's before there's a murder in the dead of night - By morning Inspector Wilkins of the Westshire Constabulary is cast in the unlikely role of hero, as he tiptoes through the evidence and endeavours to unravel the slightly batty, thoroughly baffling mystery - and work out just what a mutilated mink coat has to do with anything.
Information
Format: Paperback
Pages: 352 pages
Publisher: Allison & Busby
Publication Date: 23/02/2009
Category: Historical mysteries
ISBN: 9780749079536
Other Formats
Paperback from £8.35
Hardback from £14.65
EPUB from £5.60
Free Home Delivery
on all orders
Pick up orders
from local bookshops
Reviews
Showing 1 - 2 of 2 reviews.
Review by JulesJones
16/06/2015
Second in Anderson's series of affectionate parodies of the classic 1930s country house murder mystery. I thought this one was better constructed than the first, with enough there to make it possible to deduce who the killer was if you were paying attention. I did work out who the killer probably was fairly early on, but not his motive, which is very cleverly hidden. I missed some of the clues and was distracted by some of the red herrings, so wasn't certain until close to the end.The Earl of Burford has discovered the joys of the talkies, and is having a wonderful time being a starstruck fan. So wonderful that he can't believe his luck when a Hollywood film producer wants to hire Alderley as a setting for his latest film, starring the Earl's favourite actor. Naturally, the producer wishes to assess the building and grounds for practicality first, and to encourage the Earl to agree asks if he can bring his star along as well. Thus starts a weekend house party which snowballs, continually acquiring invited and uninvited guests until the house is full of people -- many of whom are not quite what they seem on the surface. And when one of them ends up shot dead in the middle of the night, Inspector Wilkins has a job on his hands untangling the many motives which have brought the characters to Alderley.Great fun to read, with some appealing characters. I'm being more ruthless about getting rid of books now, and this one isn't a keeper for me, but it was well worth the time spent reading it.
Review by soraki
16/06/2015
The Earl of Burford invites a Hollywood producer, an actor, and a scriptwriter to his country estate for the weekend, hoping that they'll decide to film their next swashbucker there. His daughter, Lady Geraldine, invites two prospective fiances down for the weekend in order to compare them before making a decision. Meanwhile, the Countess invites her distant cousin whom she has not seen for twenty-five years and her husband over. Along with a couple of uninvited guests, the house party assembles at Alderly for a weekend of socializing, drinking, and riding around the estate. But in the middle of the night, there is a gunshot, and one of the guests is found dead in her room with another guest standing over her holding the gun.This is a fun and well-written mystery. There are also several hilarious scenes where Lady Gerry pretends to be a homicidal schizophrenic.