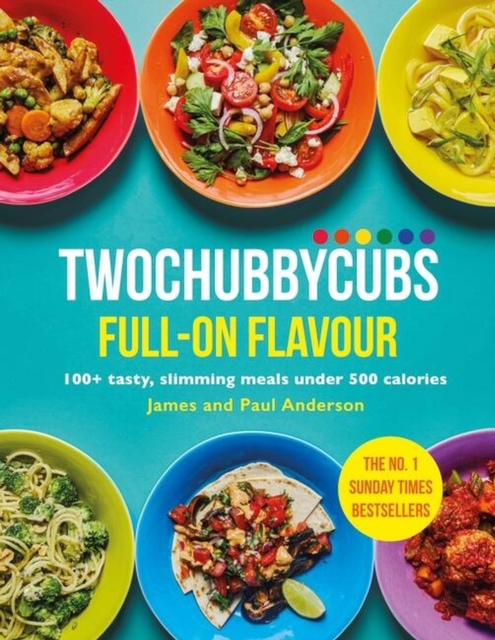 Twochubbycubs Full-on Flavour : 100+ tasty, slimming meals under 500 calories
Hardback
Description
James and Paul, also known as the Twochubbycubs (triple Sunday Times Bestsellers mind you, no less), are finally back with their latest serving of flavoursome and filling recipes that are designed with one thing in mind: to give you delicious slimming dinners, lovely lunches and bangin' breakfasts without ever feeling like you're on a diet. Having lost over TEN STONE each, the Cubs know the importance of not only losing the weight but also keeping it off.
There's no magical mystery: it's about enjoying your food and your meals being something you look forward to, not endure in the name of 'healthy eating'.
As a result, every single meal in Full On Flavour might be low-calorie, but you're guaranteed wonderfully tasty meals that leave you satisfied.
Not the best cook? Don't worry: nor are they by their own admission - so every meal is simple to prepare.
Cooking for the family? No need to prepare your own 'special' food, these are meals for everyone to enjoy.
Complex ingredients that you'll only use once? Not in this book - the Cubs are too tight for that malarkey.
Like all the previous books, there is one key ingredient running all the way through: humour.
The world of dieting and healthy eating can be a grey, boring affair, but not here - each recipe is prefaced by a little sprinkling of the frivolity that they're known for.
On top of that, there's a guide to exercise and calorie counting if you're just getting started. With over 15,000 5* reviews of their previous books and hundreds of thousands of copies sold, you're in safe hands with the Cubs!
Recipes include:Cheese 'n' onion French toast / Bacon and potato soup / Onion bhaji curry / Veggie cheats lasagne / Spring roll in a bowl / Pizza-stuffed meatloaf / Chocolate lava cakesFULL-ON FLAVOUR will become your absolute go-to for easy, daily cooking inspiration!
Information
Format:Hardback
Pages:256 pages, 4 colour
Publisher:Hodder & Stoughton
Publication Date:28/12/2023
Category:
ISBN:9781399701976
Information
Format:Hardback
Pages:256 pages, 4 colour
Publisher:Hodder & Stoughton
Publication Date:28/12/2023
Category:
ISBN:9781399701976