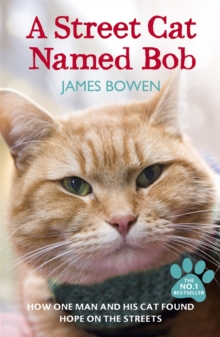 A Street Cat Named Bob : How one man and his cat found hope on the streets
Paperback
Description
'[Bob] has entranced London like no feline since the days of Dick Whittington.' (Evening Standard)The phenomenal Number One bestseller about best friends James and Bob.
Now a major motion picture starring Luke Treadaway.When James Bowen found an injured, ginger street cat curled up in the hallway of his sheltered accommodation, he had no idea just how much his life was about to change.
James was living hand to mouth on the streets of London and the last thing he needed was a pet.Yet James couldn't resist helping the strikingly intelligent tom cat, whom he quickly christened Bob.
He slowly nursed Bob back to health and then sent the cat on his way, imagining he would never see him again.
But Bob had other ideas.Soon the two were inseparable and their diverse, comic and occasionally dangerous adventures would transform both their lives, slowly healing the scars of each other's troubled pasts.A Street Cat Named Bob is a moving and uplifting story that will touch the heart of anyone who reads it.
Information
Format: Paperback
Pages: 288 pages, None
Publisher: Hodder & Stoughton General Division
Publication Date: 01/09/2012
Category: Memoirs
ISBN: 9781444737110
Other Formats
EPUB from £1.99
Paperback from £7.85
Free Home Delivery
on all orders
Pick up orders
from local bookshops
Reviews
Showing 1 - 5 of 5 reviews.
Review by elliepotten
16/06/2015
"Ordinarily, no one would engage or even exchange a look with me. I was a busker and this was London. I didn't exist. I was a person to be avoided, shunned even. But as I walked down Neal Street that afternoon almost every person we passed was looking at me. Well, more to the point, they were looking at Bob... It must have looked slightly incongruous, a tall, long-haired bloke walking along with a large, ginger tom on his shoulders."This is SUCH a sweet autobiography. It's not the most amazingly written book, it doesn't dazzle you with its exquisite prose - but you know what? Sometimes it's the story that counts, and this is a lovely one. As most of the universe will already know by now, it's about how James, a recently homeless recovering drug addict, finds a bedraggled ginger tom cat in his apartment building and, being the soppy sort, decides to take him in. Initially only intending to help Bob recover from various street-life-induced problems, the pair quickly become inseparable. After a while Bob starts to follow James to his busking gigs and sits by his side while he's working, earning plenty of interest (and extra coins) from passers-by. In turn, caring for Bob gives James a friend, a responsibility, someone to get up for every morning, a lifeline to happiness even during his darkest hours. This is the story of their friendship and how Bob and James changed each other's lives for the better. It's got some really tear-jerking moments, some dark ones and some all-out gorgeous ones, and I loved it. Bob and his little scarf, of course, are now famous around the world, partly thanks to his penchant for riding around London on James's shoulder! This isn't only a tale of one man and his faithful cat - though of course, Bob is a constant theme from beginning to end - it's also a rather harrowing insight into life on the poverty line. James has been homeless, has been a drug addict, and throughout most of the book is on a methadone program to wean him off heroin. As an official busker in London, he works long days come rain or shine to scrape together enough to live on, and although Bob's presence ups his daily takings it's still not enough if sudden expenses arise. Not only that, but he's constantly vulnerable to attack by the... let's be honest here, the nasty pieces of work that riddle our society... as well as facing prejudice and verbal abuse on a daily basis.As he starts to pull his life back together (with a little help from his feline friend), his next step is to become a Big Issue seller. This book will hopefully be a huge boost to sellers, because most people, like me, probably have no idea what this actually entails. I had no idea, for example, that for a seller the magazine is like a personal business. When they first become a seller (all sellers are licensed and given a spot to work from) they get a handful of copies for free, but after that it's up to them. Magazines must be bought (for a set price) before they can be sold on (again, at a set price), and stock must be carefully managed to avoid over- or under-buying. When the next issue comes out, some of the profit is used to buy new magazines, and so on. I didn't really know any of this, so I think I'm a lot more likely to be sympathetic to our local sellers and start picking up an issue every now and again!All in all, this is a great little heart-warming read (especially for my fellow cat lovers). James is now fundraising to pour money back into the Blue Cross, the veterinary charity that helped him out with Bob when money was tight, which makes me like him even more. A bloody good chap - and a VERY cute cat. :)
Review by TheCrow2
16/06/2015
THE simply most beautiful and heart-warming story I've ever read is about a stray cat and a 'stray' man finding each other in the streets of London and how they help each other. A story of an extraordinary friendship. Someone said on the net, it's a love story and it is.
Review by Moonlightfaery
16/06/2015
Easy read, not that dramatic as made out to be by a colleague.
Review by infjsarah
16/06/2015
I really enjoyed this book - it is a hopeful book even though some of the situations are not so. As a lifelong cat lover and owner, I could identify with James' love and companionship with Bob and his fear when he was missing or threatened. I've yet to meet a cat that will ride on your shoulder though - that is very unusual.Have ordered the sequel to read.
Review by tina1969
16/06/2015
James lived on the streets and was a recovering drug addict. When trying to get his life on track and living in a shelted housing he meets Bob the cat and both their lives will change for the better.I don't normally like biographies as I don't want to read a narrative that rambles on, so I gave this book a shot purely because it's the reading group.What a surprise I got with this book. The book was very easy to read and I found I was ploughing through it quite quickly. As soon as James began his story I was hooked and wanted to find out what was going to happen to both James and Bob.I can totally relate to what James tells us about Bob as I am a cat lover myself and over the years have had several cats. All my own have now gone but I do care for two stray kittens that live in my garden. Cats have a habit of being where they want to be and they find you rather than you find them.The story is very heartwarming, sad at times and makes you think. I also learnt a lot from James's story about selling the Big Issue and didn't realise how complex that could be.What I didn't want was a sad ending and it's no spolier as there are plenty of videos on You Tube of Bob and further books of his adventures.Not sure if I would read anymore of the series of books but I did enjoy this book as its a charming tale of hope and very heartwarming.