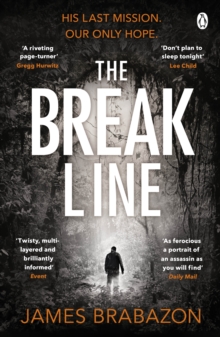 The Break Line : 'A riveting page-turner' Gregg Hurwitz, author of Orphan X
Paperback / softback
Description
Fans of Andy McNab, Orphan X and Frederick Forsyth, will love this unputdownable and action-packed debut thriller. 'BREATHLESS, COMPLEX, AND SERIOUSLY HARDCORE - DON'T PLAN TO SLEEP TONIGHT' Lee Child'THE BREAK LINE DELIVERS A FULL-THROTTLE EXERCISE IN TENSION' Crimetime 'A RIVETING PAGE-TURNER, A GRUESOME DELIGHT, AND A STUDY OF WHAT LIES IN THE SHADOWED CORNERS OF THE HUMAN HEART' Gregg Hurwitz, author of ORPHAN X _____________ Officially, Max McLean doesn't exist.
The British government denies all knowledge of the work he does on their behalf to keep us safe.
But Max and his masters are losing faith in each other. And they've given him one last chance to prove he's still their man. Sent to a military research facility to meet a former comrade-in-arms, Max finds the bravest man he ever knew locked up for his own protection.
His friend lost his mind during an operation in West Africa.
The reason? Absolute mortal terror. Max is determined to find out why. Ahead lies a perilous, breathtaking mission into the unknown that will call into question everything that Max once believed in. Acting alone, without back-up, Max lands in Sierra Leone with his friend's last words ringing in his ears: 'They're coming, Max.
They're coming . . .' The Break Line is a debut dripping with authenticity and menace.
Packed with irresistible set pieces and jaw-dropping plot twists, this is a thriller like no other. _____________'A thriller of an unusually classy calibre. Eloquently written, intensively researched ... Brabazon has crafted hugely gripping, thought-provoking yarn, grounding its outlandish elements in solid realism and vivid characterisation' Financial Times 'A taut, razor-edged thriller, packed with granular detail and authenticity' JAMES SWALLOW, author of NOMAD'The Break Line is a distillation of a quarter of a century of travel with a camera in one and and a notebook in the other.
Set in Sierra Leone, it sees Special Forces veteran Mac McLean on a mission that is non-routine even by his own black ops standards . . . It's so twisty and multilayered it would be easy to imagine it as a computer game.' Mail on Sunday
Information
Format: Paperback / softback
Pages: 384 pages
Publisher: Penguin Books Ltd
Publication Date: 24/01/2019
Category: Espionage & spy thriller
ISBN: 9780718189556
Other Formats
Hardback from £10.25
EPUB from £4.99
Free Home Delivery
on all orders
Pick up orders
from local bookshops