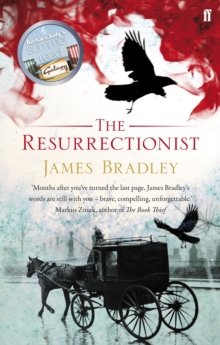 The Resurrectionist
Paperback
Description
This book is set in London, 1826. Leaving behind his father's tragic failures, Gabriel Swift arrives to study with Edwin Poll, the greatest of the city's anatomists.
It is his chance to find advancement by making a name for himself.
But instead he finds himself drawn to his master's nemesis, Lucan, the most powerful of the city's resurrectionists and ruler of its trade in stolen bodies.
Dismissed by Mr Poll, Gabriel descends into the violence and corruption of London's underworld, a place where everything and everyone is for sale, and where - as Gabriel discovers - the taking of a life is easier than it might seem.
Information
Format: Paperback
Pages: 352 pages
Publisher: Faber & Faber
Publication Date: 19/06/2008
Category: Horror & ghost stories
ISBN: 9780571232765
Other Formats
Paperback from £10.25
EPUB from £6.39
Free Home Delivery
on all orders
Pick up orders
from local bookshops
Reviews
Showing 1 - 5 of 13 reviews.
Previous | Next
Review by devenish
16/06/2015
The protagonist,Gabriel Swift who lives in London in the 1820's,is employed as an Anatomist's apprentice.He unpacks the bodies after delivery and cleans them ready for his master Mr Poll to cut up in his lectures. Through a series of unfortunate events he gets into the hands of the 'Body-Snatchers' and is finds himself working for them.As the book progresses he falls lower and lower and is finally involved in several murders.Some of the scenes described in the book are almost unbearably graphic,but are crucial to the story.It brings to life for the reader what must have been the true underbelly of Georgian London. The second section of the book (which I will not give away) was for me a little disappointing.I felt it lacked the fire of the earlier part and was a slight let-down.An excellent and exciting read nevertheless.
Review by LadyN
16/06/2015
The potential for the story was enormous. Taking the reader into the dark underworld of corpse-trading in the 19th Century, the protagonist is Gabriel, apprentice to a surgeon/anatomist who buys his specimens from the resurrectionists of London.My main frustration was that too often, be it regarding character or plot strands, there was too much allusion, and not enough dedication to development. By the end of the book there were too many unfinished elements -it felt like the author wasn't quite sure what his motivation was for writing this particular story.This said, I was drawn to the subject matter enough to want to continue reading, even if I was ultimately left unsatisfied.
Review by riverwillow
16/06/2015
I very rarely give up on reading a book, but I was so bored, unengaged and uncaring about the characters and the plot in this book that I gave up on page 225. Now I love a Gothic novel, but this was just list of autopsies, dis-interments, death, sometimes murder, broken up every so often with the odd slice of the London underworld, which does not a Gothic novel make.
Review by Jstefanlari
16/06/2015
Tryingly trite. Promising theme, badly written and silly plot. Like a parody of Dickens at his worst. Read Slammerkin instead, it's infintely better.
Review by jan.fleming
16/06/2015
The story of one man's descent into a nightmare of self-loathing in which his humanity and compassion is sucked out of him. The novel has a brilliant sense of time and place with excellent moody atmospheric writing <br/><br/>The slippery, shifting nature of the storyline with its first person narrative and prose style can be difficult to get into initially but you are soon hooked in by the captivating writing. For example consider the opening sentences:<br/><br/><i>In their sacks they ride as in their mother's womb: knee to chest, head pressed down, as if to die merely to return to the flesh from which we were born, and this a second conception. A rope behind the knees to hold them thus, another to bind their arms, then the mouth of the sack closed about them and bound again, the whole presenting a compact bundle, easily disguised, for to be seen abroad with such a cargo is to tempt the mob.</i> <br/><br/>I thoroughly enjoyed the first half of the book but I felt the plot became disjointed, fragmented and inconsistent and ultimately I felt unsatisfied with the unexpected coda. <br/>