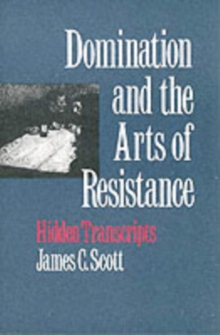 Domination and the Arts of Resistance : Hidden Transcripts
Paperback
Description
"Play fool, to catch wise."-proverb of Jamaican slaves Confrontations between the powerless and powerful are laden with deception-the powerless feign deference and the powerful subtly assert their mastery.
Peasants, serfs, untouchables, slaves, laborers, and prisoners are not free to speak their minds in the presence of power.
These subordinate groups instead create a secret discourse that represents a critique of power spoken behind the backs of the dominant.
At the same time, the powerful also develop a private dialogue about practices and goals of their rule that cannot be openly avowed.
In this book, renowned social scientist James C. Scott offers a penetrating discussion both of the public roles played by the powerful and powerless and the mocking, vengeful tone they display off stage-what he terms their public and hidden transcripts.
Using examples from the literature, history, and politics of cultures around the world, Scott examines the many guises this interaction has taken throughout history and the tensions and contradictions it reflects.
Scott describes the ideological resistance of subordinate groups-their gossip, folktales, songs, jokes, and theater-their use of anonymity and ambiguity.
He also analyzes how ruling elites attempt to convey an impression of hegemony through such devices as parades, state ceremony, and rituals of subordination and apology.
Finally, he identifies-with quotations that range from the recollections of American slaves to those of Russian citizens during the beginnings of Gorbachev's glasnost campaign-the political electricity generated among oppressed groups when, for the first time, the hidden transcript is spoken directly and publicly in the face of power.
His landmark work will revise our understanding of subordination, resistance, hegemony, folk culture, and the ideas behind revolt.
Information
Format: Paperback
Pages: 269 pages
Publisher: Yale University Press
Publication Date: 29/07/1992
Category: Social groups
ISBN: 9780300056693
Free Home Delivery
on all orders
Pick up orders
from local bookshops
Reviews
Showing 1 - 1 of 1 reviews.
Review by mooreken
16/06/2015
In their conclusion to Michel Foucault: Beyond Structuralism and Hermeneutics, Dreyfus & Rabinow posed the question: 'Is there any way to resist the disciplinary society other than to understand how it works....? Is there a way to make resistance positive...?This book offers insight into how that resistance has (and can still) manifest itself.