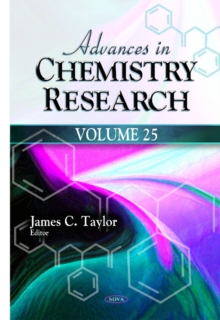 Advances in Chemistry Research : Volume 25
Hardback
Description
This book presents original research results on the leading edge of chemistry research.
Each article has been carefully selected in an attempt to present substantial research results across a broad spectrum.
Topics discussed include integrated upgrading of energy agro-crops for production of dissolving grade eco-clean cellulose fibres; effective medium simmons (EMS) model for accounting of multi-barrier tunnelling in single molecular nanodevice; methods for converting nitro aryls to secondary aryl amines in one-pot; effect of NaOH coatings on the 330Cb alloy oxidation at 900 DegreesC; evaluation of a novel natural adsorbent for heavy metal removal and its comparison to banana peel; structural diversity, surface composition, and redox behaviour in the La0.6Sr0.4CoO3 PrO2- system; improvement of x-ray fluorescence and x-ray radiometric methods of rare heavy metals' diagnostics in soils; difference in deformation characteristics by forming into the agglomerates in KCl:Sr2+ single crystals; the electrolytic dissociation of alkyl and aryl derivatives of glutaric acid; and thermodynamic consistency tests for experimental data of salt deposition in saline water.
Information
Format: Hardback
Pages: 181 pages
Publisher: Nova Science Publishers Inc
Publication Date: 01/06/2015
Category: Chemistry
ISBN: 9781634822428
Free Home Delivery
on all orders
Pick up orders
from local bookshops