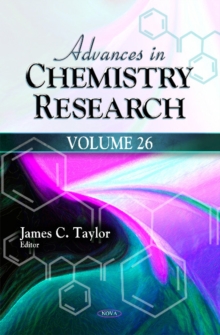 Advances in Chemistry Research : Volume 26
Hardback
Description
This book presents original research results on the leading edge of chemistry research.
Each article has been carefully selected in an attempt to present substantial research results across a broad spectrum.
Topics discussed include recent advances in rare earth doped lead-free oxyfluoride silicate glasses and glass-ceramics for optoelectronics and active fibre technology; supramolecular carriers for triclosan; a comparative method for evaluating the natural uranium isotopes 238U and 234U in waters; theoretical assessment of plasma gasification processes of low grade coal and biomass feedstock; potential applications of actuarial pension mathematics to chemical sciences; separation of XRD patterns to determine crystal structures of LiMnO2 showing anisotropic lattice strain as composites with chiral metal complexes; using folic acids to detect reactive oxygen species; surfactant-based extractions; evaluation of the possibility of using normalisation with cobalt in detection of anthropogenic heavy metals in sediments; effect of black chokeberry juice on diethylnitrosamine from precursors in in vitro experiments; the density functional theory investigations of the local structure of hydrated electron and di-electron; and carbonic anhydrase mediated biomimetic CO2 sequestration.
Information
Format: Hardback
Pages: 212 pages
Publisher: Nova Science Publishers Inc
Publication Date: 01/06/2015
Category: Chemistry
ISBN: 9781634636308
Free Home Delivery
on all orders
Pick up orders
from local bookshops