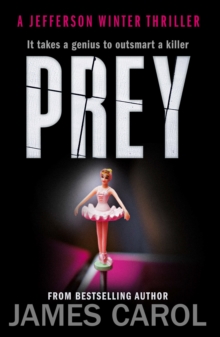 Description
Has Jefferson Winter finally met his match? Six years ago a young married couple were found brutally stabbed to death in their home in Upstate New York.
Local police arrested a suspect who later committed suicide.
But what if the police got it wrong? Ex-FBI profiler Jefferson Winter is drawn into a deadly cat-and-mouse game with a mysterious female psychopath as she sets him a challenge: find out what really happened six years ago.
The clock is ticking and, as Winter is about to find out, the endgame is everything...
Information
Format: Paperback
Pages: 400 pages
Publisher: Faber & Faber
Publication Date: 26/02/2015
Category: Crime & mystery
ISBN: 9780571322312
Free Home Delivery
on all orders
Pick up orders
from local bookshops
Reviews
Showing 1 - 1 of 1 reviews.
Review by atticusfinch1048
16/06/2015
Prey – Brilliant Thriller James Carol has brought another instalment of the Jefferson Winter thriller in the form of Prey, which bring a new case of psychopath killer to the public. Prey is written in a wonderful easy to read style that draws you in as the ride through an evil mind is pure brilliance. The Jefferson Winter series gets better with each book which promised and delivers on the grisly and twisted. We continue to see Winter as a conflicted but brilliant profiler who channels his inner psychopath to find the killer.Jefferson Winter is out late at night in New York wanting something to eat in a late night diner; he has just finished a case and is ready to fly out to Paris for another case. When a mystery woman engages him in conversation before his food is delivered and as she leaves she stabs the cook through the eye and kills him.With Mendoza a detective from the NYPD Homicide Squad they begin a cat and mouse game with this mysterious killer as she drops crumbs for them to follow. First they must get to the bottom of a solved crime from six years previous that happened up in New York state where their interference would not be appreciated in small town rural New York. They realise that their suspect is one Amelia Price who may or may not have been involved while her brother was thought to be the murderer who killed himself before any arrest. They also discover that the Price family is one very damaged group of people Amelia's brother and mother both hung themselves in the family barn and nobody had seen her father Eugene for six years.As Winter and Mendoza investigate they have a sheriff that seems to move in reverse and blocking them at every turn, their suspect appears in the middle of the night to taunt them and all roads seem to head back to New York and his previous case. All along they slowly uncover Amelia's clues but they still cannot get down to the psyche and even at the end do they really know her? They realise that discover what she is capable of then they need to find the truth from the six years previous to understand what she is capable of in the present. Winter realises that the only way they will ever capture Amelia is to turn the tables on her because as long as she was in control they would never get near to her. She would need to be dragged out of her comfort zone but they had to find that first and how long they could be the masters of her destiny would be another matter.James Carol's writing is clear and crisp and descriptions make it clear to picture everything that we are being told. Carol is a master of the psycho crime thriller that gets you hooked from the first to the last paragraph the only regret is finishing the book.