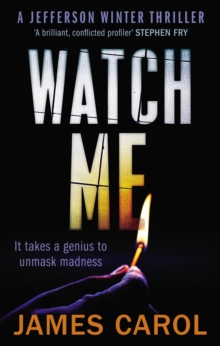 Description
Have you met Jefferson Winter yet? Ex-FBI Profiler Jefferson Winter is back in James Carol's follow-up to the bestselling Broken Dolls.
Watch Me is an ITV Specsavers Crime Thriller Bookclub selection. "You'll finish this book and be straight online to find out when the next one's coming." (Mark Billingham). "I loved him ...A really interesting and different character." (Kate Mosse).
Will you love Winter too?
Information
Format: Paperback
Pages: 400 pages
Publisher: Faber & Faber
Publication Date: 07/08/2014
Category: Crime & mystery
ISBN: 9780571302765
Free Home Delivery
on all orders
Pick up orders
from local bookshops
Reviews
Showing 1 - 2 of 2 reviews.
Review by atticusfinch1048
16/06/2015
Watch Me – Yes PleaseWatch Me by James Carol the new Jefferson Winter novel is a masterpiece of a thriller that is fast paced and keeps you guessing all the way to the end. What makes this even better as a series is that each book is a standalone novel so it does not matter where you in the series you start. A plus for someone like me. Jefferson Winter is a former FBI profiler in their famous BAU Unit, but now he is freelance and in continual demand. Like all profilers he carries his own baggage perfectly well, especially as he is the son of Albert Winter, Maths teacher, husband and one of America's most prolific serial killers. When people hire him he likes a hotel suite rather than a hotel room and he rarely actually goes home.Winter closes a case down in Charleston when he is offered two jobs, one in Louisiana the other in Hawaii. The Louisiana job swings it especially as they seem to be up against the clock, as a local divorce lawyer, Sam Galloway, is burned alive and his death is recorded and placed on a website for the police to view. The local Sheriff sends a Gulfstream up to Charleston to fly Winter down to Eagle Creek, the original small town America.Winter does his profiling and takes under his wing Taylor a junior police officer and his secret girlfriend Hannah to discover the unsub. To discover the killer Winter needs to get under the skin of Eagle Creek and find what secrets are hidden from the prying eyes of outsiders. At first Winter thinks he is on a dead line but once that has passed does he realise that this unsub is very careful, intelligent and plans right down to the last detail.It is only through the work of Taylor and Winter and the help they receive from those outside law enforcement do they discover the crime scene and make vital discoveries. From that point on it becomes clearer to Winter who the unsub is who they are trying to find and detain. At the same time as they discover the truth about the unsub they disturb the stone that covers all the dark secrets of Sam Galloway and the reasons for his murder.Jefferson Winter is a conflicted investigator with a taste for the finer things in life and especially a good malt whisky. This is an excellent example of the defective detective, with excellent insight which in part makes Watch Me an excellent police procedural thriller. All the ingredients are there, which shows how well researched this novel is even if the real Eagle Creek is actually in East Texas and thirty miles from Shreveport, Louisiana (well known to fans of Sookie Stackhouse).This is a brilliant novel fast paced and exciting with James Carol as the wordsmith the evocative imagery that leaches out of each page you feel that you are right there centre stage. The story is well crafted with a degree of artistic licence which does not detract from this thriller. Did I enjoy it? Yes I loved it I read it in a day and did not want the story to end. Jefferson Winter is a new hero who will gain fans by the day.
Review by tina1969
16/06/2015
Sam Galloway is a prominent lawyer and he has been murdered. Jefferson Winter, ex FBI has been called in to solve the case.This is the second book in the Jefferson Winter series and as always I do prefer to read them in order. In this case I haven't because it's one of tbe books featured on the ITV 3 Crime Thriller Awards season. I have to say that it didn't make much difference and this book can be enjoyed as a stand alone thriller.Jefferson Winter for me is an interesting character and I quite enjoyed following him around. At times he reminded me of Sherlock with his detecting and observing skills. He also reminded me of Coloumbo, he was like a dog with a bone, and just one more question. This I found at the Scooby Doo moment at the end of the book when perp is revealed. A very good thriller with a steady pace with plenty that kept my interest. I probably would read another book in the series. This book had plenty to offer and I felt it was slighty different to some crime novels.