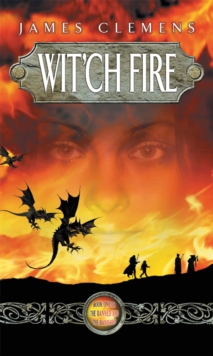 Description
Long ago the Mages of Alasea, beset by a dark and implacable evil, made a last desperate stand to preserve some remnant of their once-beautiful land.
Knowing their own destruction to be inevitable, the Mages gathered the last of their magic and stored it away against the need and peril of a distant time.
In doing so the Mages gave the people of Alasea a future and a hope -- and damned themselves forever ...Now, five centuries after their destruction, a young girl, Elena, inherits the powers that the Mages had so carefully hidden from their enemy.
But though the Mages are long dead their ancient foe is not -- and when the Dark Lord learns of Elena's power he turns all of his terrible strength against her.
Desperate and alone, fleeing from disaster, escaping into darkness, Elena seeks out the allies and knowledge that can help her to master her bitter gifts and cast down the evil that shattered the land of Alasea ...Find out more about this and other Orbit titles at www.orbitbooks.co.uk
Information
Format: Paperback
Pages: 512 pages
Publisher: Little, Brown Book Group
Publication Date: 06/06/2002
Category: Fantasy
ISBN: 9781841491509
Free Home Delivery
on all orders
Pick up orders
from local bookshops
Reviews
Showing 1 - 2 of 2 reviews.
Review by TheBurningBookshelf
16/06/2015
If you want a world full of unexplored magickal ability's, An outstanding quest to save the world, a young girl coming into her own, as she discovers the fine line between wit'ch and woman, this is the book series to explore. (Stormdancer)
Review by JacInABook
16/06/2015
This is the first in a five book fantasy series set in Alasea. It tells of a world that is bereft of magic powerful enough to combat the evil of the Dark Lord of Gul'gotha and his minions. For 500 years Alasea and its people have been under the rule of the Gul'gothan hoards, unable to break free, until finally they did not even remember that life had been different to how it was now. That is except for the whispered stories told as fables and legends of the last Mages and their final sacrifice.Elena, a thirteen year old girl just becoming a woman, is the hope of Alasea though no one but the Dark Lord is aware of it. The story tells of her flight from evil, her loss, her fear and her courage. It tells of the people she meets, sent to help or to hinder. And it tells of the difficult choices that will be hers alone.I started this book thinking, "Another quest, another battle between good and evil, let's see how it pans out". Well I was impressed. It was James Clemens' first novel and although the plot could have been a well worn rehash of many others, I thought it was well thought out and fresh. Many of the magical aspects of the plot were original and inventive, and strangely enough for a fantasy novel, believable.I especially liked the characterisation. There are many figures in this story and what I particularly liked was that the evil ones were not always knowingly wicked, and the good not always to be trusted. The relationships were also very well written, so much so that I felt as if I was there with the people, sympathising with or reviling their motives as I came to know them better.I enjoyed this story so I'm looking forward to continuing the adventure in the next book, and hopefully learning more about the history of Alasea and the different races.
Also in the The Banned and the Banished series