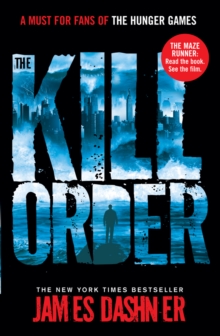 Description
SPOILER ALERT: Read after The Maze Runner, The Scorch Trials and The Death Cure When sun flares hit the Earth, intense heat, toxic radiation and flooding followed, wiping out much of the human race.
Those who survived live in basic communities in the mountains, hunting for food. For Mark and his friends, surviving is difficult, and then an enemy arrives, infecting people with a highly contagious virus.
Thousands die, and the virus is spreading. Worse, it's mutating, and people are going crazy.
It's up to Mark and his friends to find the enemy - and a cure - before the Flare infects them all ...
Information
Format: Paperback
Pages: 336 pages
Publisher: Chicken House Ltd
Publication Date: 01/01/2013
Category: Science fiction
ISBN: 9781908435590
Free Home Delivery
on all orders
Pick up orders
from local bookshops
Reviews
Showing 1 - 4 of 4 reviews.
Review by LaneLiterati
16/06/2015
This book had the same nonstop action as the other two books in the series. I felt like some of the obstacles were a little far-fetched...silver globs turning your head into a "bowling ball"? Really? After the first two books, I was a little bit tired of the chase so to speak, but was too curious to find out how this would all turn out to stop reading. I felt like the ending came too quickly without all the pieces being fit together. This being said, I enjoyed the read and am working on the prequel.
Review by LaneLiterati
16/06/2015
This is the prequel to the Maze Runner Series. After reading the first three, I was happy to hear someone else's story besides Thomas. Although I liked the action in the book, I felt it was depressing. I also wish the author would have told more of what the "government" was thinking and doing. This side of the story was never portrayed in any of the books. This book is really not a piece that is necessary to understand the other three and is just more of the same from a different person's perspective.
Review by JMBridger
16/06/2015
An ultra violent and graphic post- apocalyptic book about the survivors of a worldwide sun flares that decimate most of earth's population. To add insult to injury, a mysterious group appears, injecting survivors with a deadly, mutating virus, creating chaos and bloodthirst. The prequel to the Maze Runner.
Review by LaurenKathryn
16/06/2015
I suppose it was somewhat refreshing to continue, or should I say start, the story line but with different characters. Intriguing to say the least.<br/><br/>I will admit, I never really thought about the effect the solar flares would have on the world before W.I.C.K.E.D and how the virus came to be - it was refreshing to get an insight into Dashner's mind and world.<br/><br/>Although, this being said, not as shocking nor as brilliant as the first one.
Also in the Maze Runner Series series | View all