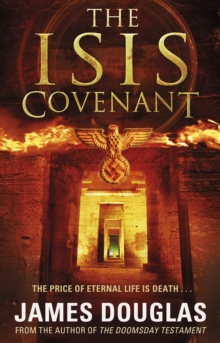 The Isis Covenant
Paperback
Description
AD 64 - Roman centurion Marcus Domitus leads an expedition to find the mythical treasure hidden deep inside Queen Dido's temple. AD 1945 - In the confusion and chaos of a burning Berlin, two high-powered Nazis disappear, and so does a precious object. AD 2009 - Two families are brutally tortured and murdered in Boston and London, the crimes linked by a single name and a shared history. Art recovery specialist Jamie Saintclair receives a call from a Boston detective, asking for his help to investigate a brutal murder.
She believes Saintclair might hold the key to solving the crime through his detailed knowledge of specialist Nazi units.
But as they delve deeper into the sinister world of the occult, they uncover a dark secret that men have lusted over for more than two millennia.
Long ago, in the ancient temple of Isis, something was stolen, and the repercussions have resonated through the centuries.
Saintclair must discover the truth before the curse claims more victims, and finally catches up with him.
Information
Format: Paperback
Pages: 480 pages
Publisher: Transworld Publishers Ltd
Publication Date: 02/08/2012
Category: Thriller / suspense
ISBN: 9780552164825
Free Home Delivery
on all orders
Pick up orders
from local bookshops
Reviews
Showing 1 - 1 of 1 reviews.
Review by Speesh
16/06/2015
Despite occupying some of the same historical space as my last outing in this genre - The Charlemagne Pursuit - The Isis Covenant is a much more nuanced, well-written and therefore much more convincing and satisfying read. It reads like a proper book, by a proper author who can write properly and doesn't read like a collection of sketched notes and still the outline of a book, like The Charlemagne Pursuit did.<br/><br/>The plot is reasonably simple, but then all good plots are. It involves the hunt for the Crown of Isis, that has been revered through the centuries, since Egyptian times. Legend has it, that it can give its wearer eternal life, if certain rituals are followed. Mid first century AD, the crown was stolen from the Temple of Isis and its whereabouts became a mystery that has lasted centuries. However, in the depravity, destruction and confusion of the end of the Second World War in Berlin, the artifact comes to light again. Then stolen. Or rather a certain part of it is stolen. Fast forward to today where English art dealer Jamie Saintclair, is contacted by a New York detective investigating a rather unpleasant murder case. Several members of a particular family, who turn out to have had a connection with Nazi Germany, have been murdered in way that seems to resemble an ancient ritual. Investigations unveil a distinctly disturbing and dangerous connection with the Nazis, their modern day apologists, Russian billionaires and a murderous plot to re-unite the pieces of the crown and fulfil the ancient ritual, before time runs out. But for who?<br/><br/>I thought that the scenes where Douglas describes the atmosphere in Berlin at the end of Hitler's Third Reich and especially the inside of the Berlin Bunker, were simply stunning. Very evocative indeed. Coming off the back of reading Antony Beevor's utterly magnificent The Second World War, I must say he surely comes close to capturing the chaos and desparate madness of how it must have been at the epicenter of the maelstrom. You won't come across many better written descriptive passages in any of this kind of historical action thriller. Outstanding.<br/><br/>The plot developments are logical, but never too obvious. The writing style is fluid, effective and satisfying, but doesn't serve everything up on a plate for you. I liked the way I felt like I still needed to do some of the work trying to figure out what was going on and how it all hung together, alongside the main characters. I had to go back over some sections a couple of times, to make sure I'd grasped it and not jumped ahead making connections that weren't there. And shocks and shocking incidents there are aplenty.<br/><br/>The only thing I'd quibble over is Saintclair. His name. I do, as I've said before, have issues over some of the characters' names in books like these. The Isis Covenant looks like the second Jamie Saintclair adventure and it looks likely they'll continue - so I'll say here and now, that James Douglas' next will get another half star on top, if the plot involves Saintclair changing his name by deed poll.