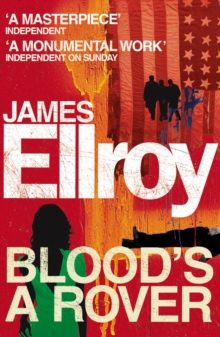 Blood's a Rover
Paperback
Description
It's 1968. Bobby Kennedy and Martin Luther King are dead. The Mob, Howard Hughes and J Edgar Hoover are in a struggle for America's soul, drawing into their murderous conspiracies the damned and the soon-to-be damned.
WAYNE TEDROW JR: parricide, assassin, dope cooker, mouthpiece for all sides, loyal to none.
His journey will take him deeper into the darkness. DWIGHT HOLLY: Hoover's enforcer and hellish conspirator in terrible crimes.
As Hoover's power wanes, his destiny lurches towards Richard Nixon and self-annihilation. DON CRUTCHFIELD: a kid, a nobody, a wheelman and a private detective who stumbles upon an ungodly conspiracy from which he and the country may never recover. All three men are drawn to women on the opposite side of the political and moral spectrum; all are compromised and ripe for destruction.
Blood's a Rover is an incandescent fusion of fact and fiction, and is James Ellroy's greatest masterpiece.
Information
Format: Paperback
Pages: 656 pages
Publisher: Cornerstone
Publication Date: 03/06/2010
ISBN: 9780099537793
Free Home Delivery
on all orders
Pick up orders
from local bookshops
Reviews
Showing 1 - 1 of 1 reviews.
Review by ehines
16/06/2015
In the past, I've enjoyed Ellroy's writing. I've read this trilogy with an increasing sense of disappointment each step of the way. The conspiracy theories behind these novels are derivative and tired. the characters unlikable and unlikely. The language, more and more, a kind of faux-gritty ("so contrived, it's hyper-real!" we hear the announcer bark) that achieves a level of unintended humor in this last novel. Though it's not even funny for long.Ellroy's writing now seems to come out of a place where Ellroy says he knows what's real, he knows the truth behind the illusion. he knows how people really live & talk & how the big events really come down.But the sad truth behind these books is that what Ellroy really knows is a very little, very circumscribed world akin to a masturbatory fantasy. And he knows that some people will be sucker enough to buy into it. Sad.