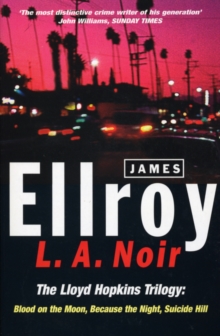 L.A. Noir : The Lloyd Hopkins Trilogy: Blood on the Moon, Because the Night, Suicide Hill
Paperback / softback
Description
Three of Ellroy's most compelling novels featuring Detective Sergeant Lloyd Hopkins in one volume.
Blood On The Moon: 20 random killings of women are unconnected in police files.
But Det. Sgt. Lloyd Hopkins sees a pattern. As he is drawn to the murderer, the two men face a confrontation pitting icy intelligence against white-heated madness. . . Because The Night: Jacob Herzog, hero cop, has disappeared.
A multiple murder committed with a pre-Civil War revolver remains unsolved.
Are the two cases connected? As Det. Sgt. Lloyd Hopkins pieces the puzzle together he discovers the darker threat of John Haviland, a psychiatrist whose pleasure comes from the manipulation of the weak and lonely.
Suicide Hill: Duane Rice leaves jail with good news and bad news: two adulterous bank managers are ripe for squeezing, but Vandy, who he is obsessed with making a rock star, has disappeared.
An orgy of violence erupts as Duane's partner goes beserk and Duane settles scores with knife and bullet.
Leading the manhunt Sgt. Lloyd Hopkins stumbles on a horrifying conspiracy of corruption and betrayal- among his own colleagues.
Ellroy's three great early novels are available in one volume for the first time - the books that led up to his LA Quartet.
Information
Format: Paperback / softback
Pages: 848 pages
Publisher: Cornerstone
Publication Date: 05/02/1998
Category: Crime & mystery
ISBN: 9780099255093