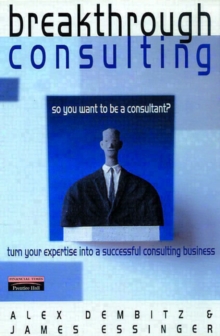 Breakthrough Consulting : How To Succeed At Being Your Own Management Consultant
Paperback
Description
"An informative, entertaining and thought-provoking treatment of the challenges and the benefits of achieving a successful career as a professional management consultant.
Full of practical advice for novice and veteran consultants.
Should also be read by those who are contracting with consultants and want to get a better perspective of what to expect - and demand - in terms of quality and professionals.
Take it from one who has been a consultant for most of his 20-year career.
In their wide ranging and amusing discourse - from Shakespeare to Howard Stern to Tevye the milkman in Fiddler on the Roof - Dembitz and Essinger have written a truly inspiring book on what consulting can and should be all about.
If only they had not revealed so many of our 'secrets for success'!" Joseph Rosen, Managing Director, Enterprise Technology Corporation, New York"Breakthrough Consulting stands out from other books on the subject for its sheer breadth, detail, inspiration and pragmatism.
The consultancy industry is booming and the time has never been better for everyone to learn more about it - be it those considering entering it; for those in it who need a wake-up call to freshen-up their own approach, through to those running their own consultancies and looking for their own exit strategies.
From the first page you realize that the authors are drawing upon an immense amount of real world first-hand experience.
Either as a full read or for those wishing to dip into it, there is something here for everyone." Julian Goldsmith, Managing Director, European Corporate Practice, Ogilvy Public Relations Worldwide, former founder and Managing Director of Sector Public Relations (now part of Ogilvy Public Relations Worldwide, part of the WPP Group plc) The first book of its kind, it provides a comprehensive insight into every aspect of what makes a successful consultant and breaks down the barriers of mystique to give a true vista of one of the world's fastest growing professions.
Read the book, and prepare to make your experience pay.
The consulting industry is a business phenomenon. Over the past 20 years it has enjoyed growth rates that are unprecedented within any industrial and commercial sector, and shows no signs of slowing.
By looking at the consultancy industry, from its origins to the present day, and assessing the reasons for its growth and impact on the modern business world, Dembitz and Essinger give a unique insight into what it takes to be, and become, a consultant.
With an infectious love of their jobs, the authors provide a comprehensive insight into every aspect of what makes a consultant, and a consulting business, successful.
They will help you assess your potential, start up your business and drive it forward.
Highly readable, Breakthrough Consulting emphasizes the need for the right attitude as much as a need to adhere to the right procedures and approaches to consultancy.
It is the first book to ask many of the world's leading consulting firms, including Andersen Consulting, Deloitte & Touche and PricewaterhouseCoopers, detailed and probing questions about their activities and attitudes to consulting as a profession.
Not only will you be shown what needs to be done, but you will be encouraged to enjoy it and its rewards.
You will be urged to find your passion and to live it.
So, if you want to discover whether consultancy is for you, now is the chance to make a breakthrough.
Alex Dembitz is the founder of the international strategic consultancy IDOM, which played a major role in bringing Western standards of business administration to businesses in Central and Eastern Europe.
After unprecedented growth, IDOM merged with Deloitte & Touche, thus allowing Alex to concentrate on his private consultanting to fast-growing organizations.
He specializes in helping start-up companies and lecturing for several of the world's leading business schools.
James Essinger is an international business writer and consultant whose clients have included Dow Jones, Hewlett-Packard, IBM, NCR and Unisys.
He has also written for many international journals including the Financial Times and the Wall Street Journal.
He has published more than 30 books about management, consultancy and getting the most out of computers.
Both authors have never regretted becoming consultants.
Free Home Delivery
on all orders
Pick up orders
from local bookshops