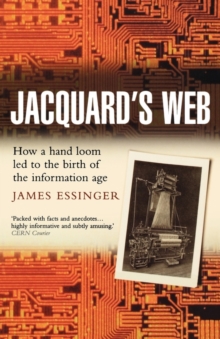 Jacquard's Web : How a hand-loom led to the birth of the information age
Paperback / softback
Description
Jacquard's Web is the story of some of the most ingenious inventors the world has ever known, a fascinating account of how a hand-loom invented in Napoleonic France led to the development of the modern information age.
James Essinger, a master story-teller, shows through a series of remarkable and meticulously researched historical connections (spanning two centuries and never investigated before) that the Jacquard loom kick-started a process of scientificevolution which would lead directly to the development of the modern computer.
The invention of Jacquard's loom in 1804 enabled the master silk-weavers of Lyons to weave fabrics 25 times faster than had previously been possible.
The device used punched cards, which stored instructions for weaving whatever pattern or design was required; it proved an outstanding success.
These cards can very reasonably be described as the world's first computer programmes.
In this engaging and delightful book, James Essinger reveals a plethora of extraordinary links between the nineteenth-century world of weaving and today's computer age: to give just one example, modern computer graphics displays are based on exactly the same principles as those employed in Jacquard's special woven tableaux.
Jacquard's Web also introduces some of the most colourful and interesting characters in the history of science and technology: the modest but exceptionally dedicatedJacquard himself, the brilliant but temperamental Victorian polymath Charles Babbage, who dreamt of a cogwheel computer operated using Jacquard cards, and the imaginative and perceptive Ada Lovelace, Lord Byron's only legitimate daughter.
Information
Format: Paperback / softback
Pages: 316 pages, 30 halftones
Publisher: Oxford University Press
Publication Date: 01/02/2007
ISBN: 9780192805782
Other Formats
EPUB from £11.03
PDF from £11.03