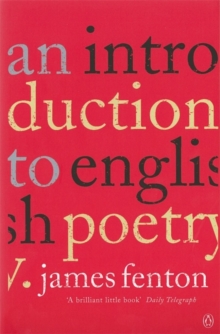 An Introduction to English Poetry
Paperback
Description
James Fenton's An Introduction to English Poetry offers a master class for both the reader and writer of poetry.
Simply and elegantly written and discussing the work of poets as wide ranging as W.
H. Auden, Dylan Thomas, Tennyson, Kipling, Milton and Blake, it covers all varieties of poetic practice in English. 'It is hard to imagine a beginner who could not learn from [this book].
If you know a young poet, give them this' The Times Literary Supplement
Information
Format: Paperback
Pages: 144 pages, glossary, index
Publisher: Penguin Books Ltd
Publication Date: 29/05/2003
Category: Literary studies: poetry & poets
ISBN: 9780141004396
Free Home Delivery
on all orders
Pick up orders
from local bookshops
Reviews
Showing 1 - 2 of 2 reviews.
Review by soylentgreen23
16/06/2015
James Fenton's name was mentioned numerous times in Hitchen's memoirs, and since I knew far less than I really should about poetry I thought that I might look something of his up on Amazon. I'm very glad I did. This slim volume is the perfect combination of erudition and accessibility, teaching the reader about poetry, illuminating the craft, and generally helping people like me to derive more pleasure from the art than I had thought possible. So, thank you Fenton, and thank you too Hitchens.
Review by RandyMetcalfe
16/06/2015
If you need a very brief introduction to English poetry, then this short book by James Fenton would be an excellent place to start. In 22 very short chapters, he covers everything from the history and scope of English poetry to form, iambic pentameter, the genius of the trochee, stanzas long and short, sonnets, rhyme, free verse, song, and poetic drama and opera. So, you can imagine that things move rather quickly. But perhaps it would be better to say that there is no dross bulking out this text. Just thoroughly serviceable, and often memorable, encounters with the various aspects of English poetry.The style of this introduction is especially engaging. Fenton is immediate and honest in his opinions and prejudices (he doesn't think much of free verse or poetry written for the eye rather than with an eye to oral presentation). But he backs up his views with reference to fabulous examples from the history of English poetry. For example, he thinks the villanelle—a form borrowed from the French—can't be much more than trivial or comic. And then he proceeds to show how in the hands of a master, like Dylan Thomas, even this trivial form can be immensely effective and powerful. Think of Thomas' "Do Not Go Gentle Into That Good Night".Fenton is also very good on linking the aspects of poetry (rhythm, rhyme, metre) to meaning. This is always a challenge, since it can sometimes seem that a poet is merely technically brilliant. But Fenton argues persuasively that a mark of good poetry is when technical brilliance serves the meaning that the poet wishes to express. I find him convincing.The final few chapters on free verse and song and opera and such seemed to race a bit. Certainly I could have stood a bit more content on just why free verse has apparently been so dominant in the 20th century and whether any of it is any good. But you can't do everything in such a brief introduction to English poetry. And after all, it is an introduction. As such, it should and will prompt the reader to want to pursue an interest in English poetry further. Recommended.