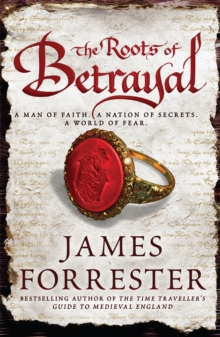 The Roots of Betrayal
Paperback
Description
From the author of The Time Traveller's Guide to Elizabethan England, now a major BBC 2 TV series, and SACRED TREASON comes the brilliant new Elizabethan thriller.1564: Catholic herald William Harley, Clarenceux King of Arms, is the custodian of a highly dangerous document.
When it is stolen, Clarenceux immediately suspects a group of Catholic sympathisers, the self-styled Knights of the Round Table.
Francis Walsingham, the ruthless protege of the queen's Principal Secretary, Sir William Cecil, intercepts a coded message from the Knights to a Countess known to have Catholic leanings.
He is convinced that Clarenceux is trying to use the document to advance the cause of the Catholic Queen. And soon Clarenceux enters a nightmare of suspicion, deception and conspiracy.
Conflict and fear, compounded by the religious doubts of the time, conceal a persistent mystery.
Where has the document gone? Who has it and who really took it? And why? The roots of betrayal are deep and shocking: and Clarenceux's journey towards the truth entails not just the discovery of clues and signs, but also the discovery of himself.
Information
Format: Paperback
Pages: 448 pages
Publisher: Headline Publishing Group
Publication Date: 01/02/2012
Category: Historical adventure
ISBN: 9780755356065
Free Home Delivery
on all orders
Pick up orders
from local bookshops
Reviews
Showing 1 - 2 of 2 reviews.
Review by passion4reading
16/06/2015
William Harley, Clarenceux King of Arms is in possession of a dangerous and explosive secret document that could spark another Catholic rebellion if it fell into the wrong hands. Finding it stolen one day, he suspects his friend and ally, Rebecca Machyn, to have taken it and single-handedly sets out to retrieve it, much to his own personal cost.This novel is set about six months after the events in Sacred Treason, and even though the plot of this novel builds on them, it is not necessary to have read the prequel as the author brings the reader up to speed from the beginning. It starts as an old-fashioned tale of adventure, involving a secret document, traitorous plots against the queen, encrypted messages, devious courtly intrigue, pirates, battles on the high seas and sword fights, peopled with characters that range from high-ranking court officials to naval commanders and pirates to common prostitutes. Woven through the narration are the threads of betrayal, friendship, loyalty and faith. The protagonist William Harley, usually referred to in the novel as Clarenceux, is a devout Catholic and the events described in this book see him torn between his deeply held religious beliefs and his conscience, his loyalty to Sir William Cecil and thus ultimately to the queen, to his wife and to Rebecca Machyn, a woman whom he secretly loves.I am slightly surprised at all the positive reviews this novel has received so far because I found it hard going at times. It starts slowly, there's a lot of toing and froing involved with no results to show for it, and I sometimes felt as if I was treading water with no plot developments to sustain the interest. It is true that the author paints an atmospheric picture of London, Southampton and surrounds, conveying a very good sense of time and place to the reader, but I felt that in his attempt to draw a vivid picture he succumbs to the temptation of making it too descriptive, the narration being too weighted down with the intricate detail of its depiction of Elizabethan life. The prose mostly remains purely functional, and in my opinion felt slightly clumsy at times. He uses a lot of archaic nouns in his descriptions of people and places and there is a fair amount of maritime terminology to be found where I would have welcomed a glossary in the appendix. I had problems picturing the layout of Calshot Fort in my mind and therefore found the section of the fighting action taking place there confusing, and it was difficult to keep track of the movements and fates of the various soldiers involved. The fact that the pirate captain Carew just happens to overhear a crucial part of information whilst he is lying in wait outside the windows is just too convenient and lets the otherwise high standard of this novel slightly down. Throughout the book I had a feeling of disengagement from the main character and could never really warm to him; mostly I just felt sorry for Clarenceux, escaping from one place of imprisonment and torture only to end up in another. The best part in my opinion without a shadow of a doubt is the thrilling and exciting sea battle, painting an extraordinarily vivid picture of the chaos, desperation, determination and noise in all its gory detail, a truly nail-biting piece of writing.This second volume in what appears to be a series of books centred around William Harley, Clarenceux King of Arms, will inevitably draw comparison with C J Sansom's Shardlake series, set in England only about 25 years before. I think this book is a pale imitation of Sansom's evocative portraits of Tudor England, and would have advised the author on a different period setting for his novels. Ultimately I feel that the publishers are trying to capitalise on Sansom's success by publishing more historical thrillers set in Tudor times, as there obviously seems to be a demand for it. Disappointing, I had expected more.(This review was originally written as part of Amazon's Vine programme.)
Review by Helenliz
16/06/2015
This is a fictional Tudor tale of betrayal and intrigue and derring do. William Harvey has in his possession a document that claims to show of a marriage of Anne Bolyn that would make her marriage to Henry VIII invalid and make Elizabeth illegitimate - and this is clearly a threat to Elizabeth's throne. Harvey is catholic, but he also has no desire to forment rebellion. So, instead of using the letter to overthrow the Queen, he simply stores it - and guards it. When it is stolen, therefore, he heads off after it - and gets into a few scrapes in the process. Another prime character is the pirate & bastard Raw Carew. until these two characters meet, the book proceeds almost by alternating chapters about one then the other. this makes the first part somewhat disjointed - it all flows a lot better once they get together. To try and describe the scrapes that Harvey and Carew go through would take almost as many pages as the book (it's not short). but it is a pretty lively story and not short of action. The book ends with a resolution of sorts - there is hope and honour restored and Harvey feels he's done what he considered his duty in the face of plotting and double dealing of the machinery of the state. There is a prequel and at half way i wouldn't have bothered, but by the end I could see myself trying it again.