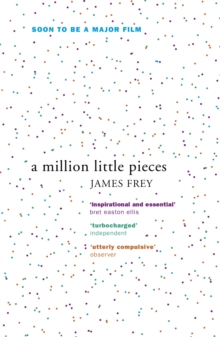 A Million Little Pieces
Paperback
Description
James Frey wakes up on a plane, with no memory of the preceding two weeks.
His face is cut and his body is covered with bruises.
He has no wallet and no idea of his destination. He has abused alcohol and every drug he can lay his hands on for a decade - and he is aged only twenty-three.What happens next is one of the most powerful and extreme stories ever told.
His family takes him to a rehabilitation centre. And James Frey starts his perilous journey back to the world of the drug and alcohol-free living.
His lack of self-pity is unflinching and searing.A Million Little Pieces is a dazzling account of a life destroyed and a life reconstructed.
It is also the introduction of a bold and talented literary voice.
Information
Format: Paperback
Pages: 528 pages, none
Publisher: Hodder & Stoughton General Division
Publication Date: 10/05/2004
ISBN: 9780719561023
Other Formats
EPUB from £7.49
CD-Audio from £13.25
Free Home Delivery
on all orders
Pick up orders
from local bookshops
Reviews
Showing 1 - 3 of 3 reviews.
Review by Jebbie74
16/06/2015
I read this one not so long ago when it was sent to me as a bookring. I wanted to see what all the hype was about, and apart from a few rather gory parts (and I love reading those!) this was like any other memoir I have read on drug abuse and alcoholism. Overall, regardless of what parts are true or fictional, it allows us to peer into a part of life that we would probably enver otherwise see.
Review by saloliver
16/06/2015
Frey has been pilloried for writing under "false pretences". In his defence, it should be noted that it is an incredibly accurate account of what it actually feels like to undergo a detox. Regardless of factual accuracy or otherwise, it is absolutely "true" in the sense of all the best writing, of whatever genre. It therefore thoroughly deserved its place in the best seller list. I gave this book to a materially and educationally impoverished young alcoholic/crack addict. At the age of 32 he'd never read a book before. He felt that the story was his own; it helped him through his early months of sobriety and quite literally helped save his life. At the same time it gave him an opening into reading for pleasure, something he had never understood before. So do not underestimate this book. It should be valued for its insight into drug and alcohol addiction, although I can see that for non-addicts it may have little meaning.
Review by imyril
16/06/2015
A bookclub read, this is either a relentlessly gruelling and honest account of the horrors of addiction, or a self-indulgent, repetitive, nasty and dull monologue about vomiting, hallucinating and wondering whether suicide is the better option.I found nothing to like here: it starts with Frey semi-conscious and amnesiac, spitting, swearing and sulking, with no redeeming features on offer even after he starts to clean up. The supporting characters are no more appealing, thinly drawn and disinteresting (perhaps in part because the narrator is holding himself aloof), unable to engage my sympathy or curiosity.As if very little happening (at length) to a dislikeable man weren't enough, Frey chooses to capitalize random Nouns and eschews use of standard punctuation (especially for speech). The resulting Hodge Podge of inconsistent capitals and no syntactical crutches makes for a subpar stream of consciousness that hurt to read. The Evening Standard's assertion on the cover that "this is brilliantly written, and if you disagree you can fuck off" was frankly red rag to my enraged bull.This may (or may not - see Google for debate on whether this novel is as autobiographical as it claims) be a searingly honest account of one man's struggle back from the brink. If so, good for him. I hope he's fully recovered and making up to friends and family for being an asshat. It may be an accurate portrayal of the horror of recovery. But it's not escapist or entertaining, and (as I'm not an addict, and don't plan to become one) it's not educational.There was a tiny chance in a million that I'd find this interesting, touching, even inspiring. Instead, I quit halfway through rather than work up a truly interminable rant to vent at bookclub. Sorry bookclub.