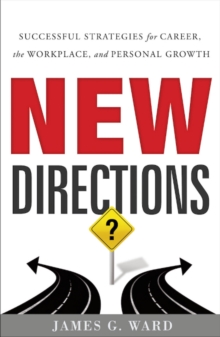 New Directions : Successful Strategies for Career, the Workplace and Personal Growth
Hardback
Description
Careers don't just happen. Our definition of career and how we approach the workplace have undergone a profound paradigm shift.
In the modern economy, career transitions are common: Layoffs, changes in management, corporate downsizing, mergers, restructuring -- even a difficult boss -- can all lead to a new job or even a completely new line of work.
What do you do when you have to find some new direction? Managing a long career is hard work, but James Ward offers a practical career toolbox, full of strategies for success at every career stage, including: How to choose and plan your career path; How to handle career transitions; How to find a job; How to succeed once you are hired; How to create a strategy for the future. Ward turns his thirty years of professional coaching and HR experience, first-hand observations of a changing business landscape, into actionable career strategies.
It's critical that you be willing and able to transition into a new job -- sometimes into a new career.
This book provides the tools necessary to excel in today's shifting professional world.
Information
Format: Hardback
Pages: 208 pages
Publisher: Greenleaf Book Group LLC
Publication Date: 01/01/2017
Category: Business strategy
ISBN: 9781626343535