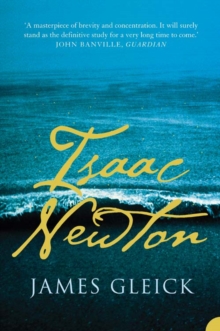 Description
From one of the best writers on science, a remarkable portrait of Isaac Newton.
The man who changed our understanding of the universe, of science, and of faith.Isaac Newton was the chief architect of the modern world.
He answered the ancient philosophical riddles of light and motion; he effectively discovered gravity; he salvaged the terms `time', `space', `motion' and `place' from the haze of everyday language, standardized them and married them, each to the other, constructing an edifice that made knowledge a thing of substance: quantative and exact.
Creation, Newton demonstrated, unfolds from simple rules, patterns iterated over unlimited distances.What Newton learned remains the essence of what we know.
Newton's laws are our laws. When we speak of momentum, of forces and masses, we are seeing the world as Newtonians.
When we seek mathematical laws for economic cycles and human behaviour, we stand on Newton's shoulders.
Our very deeming the universe as solvable is his legacy.This was the achievement of a reclusive professor, recondite theologian and fervent alchemist.
A man who feared the light of exposure, shrank from controversy and seldom published his work.
In his daily life he emulated the complex secrecy in which he saw the riddles of the universe encoded.
His vision of nature was of its time; he never purged occult, hidden, mystical qualities.
But he pushed open a door that led to a new universe.
Information
Format: Paperback
Pages: 320 pages
Publisher: HarperCollins Publishers
Publication Date: 07/06/2004
Category: History of science
ISBN: 9780007163182
Free Home Delivery
on all orders
Pick up orders
from local bookshops
Reviews
Showing 1 - 2 of 2 reviews.
Review by co_coyote
16/06/2015
An absolutely first-rate biography of Isaac Newton by a wonderful science writer. I appreciated this book even more a couple of months ago when I got to hold a first edition of The Principia in my hands at the Crawford Library at the University of Edinburgh. What an experience to open the book and see Newton's own drawing of the limit. The hairs on the back of my neck still tingle to think of it. And my appreciation was so much enhanced by Glick's ability to make Newton come to life on the pages.
Review by nielspeterqm
16/06/2015
Competent, lively & concise biography of perhaps the first Enlightenment man - & certainly "last of the magicians", as JM Keynes later put it. Speaking personally, the c200pp of text gave me quite what I'd wanted: a general survey of Newton, his main ideas, & significance for the century following him. Perhaps a little short on the mathematics side.While at it, I'll add another strictly personal remark: I found Newton sympathetic & congenial, despite his superficial unpleasantness. A scientific dictator? Sure. But also one of the great legislators of humanity, alongside Moses, Numa, Solon or (according to some) America's founding fathers. Of course Newton's primary realm was not society, but nature. Yet like every great lawgiver before him, he was all of a piece: brutally uncompromising & relentlessly selfish wherever the integrity of the rule he had devised was at stake.