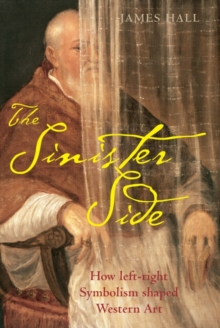 The Sinister Side : How left-right symbolism shaped Western art
Hardback
Description
Why does the Mona Lisa have an uneven smile? Was Picasso's Demoiselles d'Avignon an exploration of Satanism? Why did Michelangelo depict so many left-handed archers?
Why did the British Queen look so different when Annie Liebowitz lit her from her left side in a recent official portrait?The answer to all these questions lies in a hidden symbolic language in the visual arts: that of the perceived differences between the left and right sides of the body.
It is a symbolism that has been interpreted by artists through the centuries, and that can be uncovered in many of our greatest masterpieces, but that has been long forgotten about or misunderstood by those concerned with the history of art and the human body.
The Sinister Side reveals the key, and sheds new light onsome of the greatest art from before the Renaissance to the present day.
Traditionally, in almost every culture and religion, the left side has been regarded as inferior - evil, weak, worldly, feminine - while the right is good, strong, spiritual and male.
But starting in the Renaissance, this hierarchy was questioned and visualised as never before.
The left side, in part because of the presence of the heart, became the side that represented authentic human feelings, especially love.
By the late nineteenth century, with the rise of interest in the occult and inspiritualism, the left side had become associated with the taboo and with the unconscious. Exploring how works of art reflect our changing cultural ideas about the natural world, human nature, and the mind, James Halls'Sinister Side is the first book to detail the richness and subtlety of left-rightsymbolism in art, and to show how it was a catalyst for some of the greatest works of visual art from Botticelli and Van Eyck to Vermeer and Dali.
Information
Format: Hardback
Pages: 512 pages, 30 b&w halftones
Publisher: Oxford University Press
Publication Date: 01/10/2008
Category: History of art / art & design styles
ISBN: 9780199230860