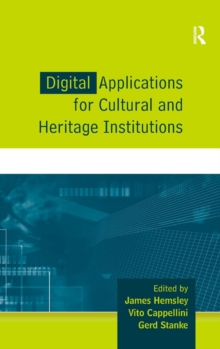 Digital Applications for Cultural and Heritage Institutions
Hardback
Description
Electronic imaging and digital applications have brought numerous benefits for museums, galleries, archives and other organizations in the arts, culture and heritage sectors.
Bringing together leading international practitioners from different disciplines, the EVA (Electronic Imaging and the Visual Arts) conferences help those working in the field to gain the most from developments in multimedia technology.
This accessible volume collects recent papers from EVA conferences, covering case studies from the world's greatest institutions, as well as from some of the smallest and most innovative.
Topics covered include virtual reconstruction of destroyed buildings, digital image archiving, 2D and 3D digitization projects, website evaluation, virtual archaeology, handheld interactive visitor support, exploiting digital cultural heritage and electronic aids for non-speaking people, as well as summaries of international research and technology development.
The volume presents in convenient form the wealth of experience of a great variety of international specialists, allowing readers to further enhance the visitor experience of their collections.