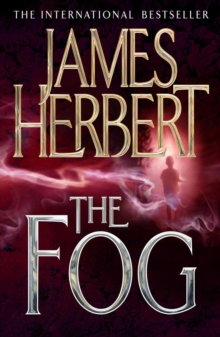 Description
The peaceful life of a village in Wiltshire is suddenly shattered by a disaster which strikes without reason or explanation, leaving behind it a trail of misery and horror.
A yawning, bottomless crack spreads through the earth, out of which creeps a fog that resembles no other.
Whatever it is, it must be controlled; for wherever it goes it leaves behind a trail of disaster as hideous as the tragedy that marked its entry into the world.
The fog, quite simple, drives people insane.
Information
Format: Paperback
Pages: 352 pages
Publisher: Pan Macmillan
Publication Date: 05/03/2010
ISBN: 9780330515313
Free Home Delivery
on all orders
Pick up orders
from local bookshops
Reviews
Showing 1 - 1 of 1 reviews.
Review by calum-iain
16/06/2015
Legendary British horror author James Herbert died on 20 March 2013. Originally an art director at an advertising agency (which gave him the necessary skills to design his own book covers, illustrations and publicity) he began writing in his spare time. His first novel "The Rats", a tale of giant man-eating black rats, became an instant best-seller. He followed this up with "The Fog" a disaster novel about a military chemical weapon that is accidentally released after an unexpected earthquake in rural England. His recent death reminded me of how much I enjoyed his early books when I first read them and that prompted me to pick up "The Fog". John Holman, an investigator at the Department of the Environment is one of the first to be exposed to the fog, but due to rapid medical intervention he gains immunity from its effects – which turns those exposed into violent, deviant psychopaths. The fog is soon multiplying, spreading and apparently developing a mind of its own; "consuming" whole villages and towns and creating mass insanity as it does so. Holman is tasked to enter the deadly, yellowish fog to try and learn what he can and assist the military to trap it again. I first read "The Fog" back in the late-1970s and remember it as an exhilarating headlong rush into violent lunacy. Rereading it, however, I was struck by how little actual violence and horror there actually is ('though, of course, it does have its moments!) and how much of it is comprised of suggestion. The story is framed as a set of vignettes that tell us what happened to individuals caught up in the fog, alternating with Holman and his struggles. Similarly, I had a memory of the early Herbert books being hugely anti-establishment and was therefore surprised at how conventional "The Fog" actually was. The creation of the fog and its subsequent release were obviously the fault of the military and in that sense Herbert displays his mistrust of the establishment. Interesting, however, the Government is shown as quite competent, with the Home Secretary and his advisors formulating strategy and arranging decisive action to tackle the fog. Holman is also a typically macho and resourceful everyman hero thrown into an unusual situation and rising with aplomb to the challenge, albeit with typically mid-70s attitude to his girlfriend and to casual sexism. The story is told at breakneck speed and Herbert's writing is crisp, superbly pulpy and no nonsense, with a touch of bleak black humour occasionally seeping into the mix. It's not without its faults, particularly the rushed characterisations and ready use of cliché, but the plot is taut and absorbing with absolutely no superfluous padding. All this makes for a hugely entertaining piece of horror and an impossible to put down slice of gory pulp fiction. Although Herbert's writing style evolved, matured and quietened over the course of his career, there is still very little quite as pleasurable as the sheer furious punk rock energy of his early books, exemplified by "The Fog".