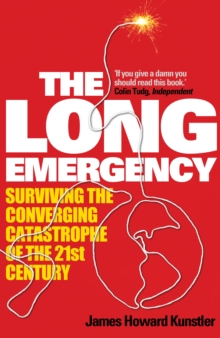 The Long Emergency
Paperback
Description
The last two hundred years have seen the greatest explosion of progress and wealth in the history of mankind.
But the age of oil, that fuelled this expansion, is coming rapidly to an end.
The depletion of fossil fuels is about to transform life as we know it, and do so much sooner than we think.
In The Long Emergency, the distinguished commentator and analyst James Howard Kunstler explains what to expect after we pass the tipping point of peak oil production, and sets out to prepare us for economic, political, and social changes of an unimaginable scale.
Free Home Delivery
on all orders
Pick up orders
from local bookshops
Reviews
Showing 1 - 1 of 1 reviews.
Review by daniel.links
16/06/2015
Intensely thought-provoking.Peak oil will happen, probably sooner than we think, and society is woefully unprepared for it. I think the case for those statements is pretty much unassailable. It will certainly be unpleasant, possibly extremely so, but I am not sure it will be as catastrophic as painted here. Personally I tend to think the problems will come first from states fighting over dwindling resources rather than the social collapse presented here, but that doesn't invalidate the book's argument at all.I disagreed with the authors take on several issues - for example his rather belligerent view of Islam - and I am not qualified to judge his analysis of American society towards the end of the book (but it seemed overdrawn to me).Nonetheless, peak oil should scare people, and they should read this book. It's coincidence with the full impacts of global warming mean that is a massive challenge; it is not one policy makers have even begun to consider. The book focuses overwhelmingly on the US, but most of the points have global application. The book may be too harsh on the viability of alternative energy sources, but raises interesting challenges that cannot be summarily dismissed: there are not easy (or any) alternatives to oil-derived fossil fuels in many many fields. If every politician asked themselves "in 2040, how will I feed, heat and clothe the population of the country with the resources I will then have available and in the environment I will then face?" then that would at least be a start. I'd add this book to the reading list of any politician as at least a way to get the ball rolling.
Also by James Howard Kunstler | View all