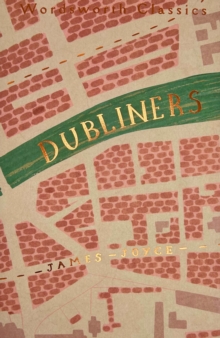 Description
Introduction and Notes by Laurence Davies, Dartmouth College, New Hampshire. Living overseas but writing, always, about his native city, Joyce made Dublin unforgettable.
The stories in Dubliners show us truants, seducers, gossips, rally-drivers, generous hostesses, corrupt politicians, failing priests, amateur theologians, struggling musicians, moony adolescents, victims of domestic brutishness, sentimental aunts and poets, patriots earnest or cynical, and people striving to get by. In every sense an international figure, Joyce was faithful to his own country by seeing it unflinchingly and challenging every precedent and piety in Irish literature.
Information
Format: Paperback
Pages: 192 pages
Publisher: Wordsworth Editions Ltd
Publication Date: 05/04/1993
ISBN: 9781853260483
Other Formats
Paperback from £2.50
Hardback from £6.45
CD-Audio from £18.65
eAudiobook MP3 from £7.20
EPUB from £1.94
PDF from £1.94
Mixed media product from £13.80
Free Home Delivery
on all orders
Pick up orders
from local bookshops
Reviews
Showing 1 - 4 of 4 reviews.
Review by ysar
16/06/2015
I can't explain why I love this book so much, but I found it incredible. Perhaps it was the simple tales about average people or the glimpses into the oddities of everyday life. In any case, the collection of quick stories is thoroughly entertaining and should be on everyone's must-read list
Review by Scriberpunk
16/06/2015
My mother used to call me a Jackeen. I thought at first she was calling me a Dubliner, an Anglicised city boy, which is one of its meanings and insult enough from a Culchie like her. A Culchie is someone from the Irish countryside. Keep up at the back. It turns out Jackeen also means a drunken waster, which is more probably what she meant, but the two definitions are one and the same to her I reckon.Joyce, in The Dubliners, never uses the word but there are one or two of both types of Jackeen scattered throughout the collection of short stories.The book reminds me of an Ian Dury album. He makes the ordinary extraordinary. He takes the small and mundane moments of everyday life and turns them into celebrations of existence. The stories start with tales of childhood and convey the tension and detail that consume a child's life perfectly and continue throughout lifetimes until the last story, The Dead, which finishes with the best piece of writing I have ever read.The perfect book to have in your pocket when waiting for someone in a pub. Preferably someone unreliable who wont turn up on time.
Review by Helenliz
16/06/2015
This isn't a cheery selection of stories, it's not displaying the famous Irish craig in any way. instead it has tales of death, disgrace, drunkenness, violence, danger, sacrifice of happiness and hope to duty and responsibility and other fun stuff like that. I sense that Joyce despaired of the inhabitants of the city, and was, possibly, trying to chock them into seeing themselves as he saw them, trapped in repetitive downwards spirals.That's not to say that the stories themselves aren't worth reading but don't expect to be uplifted by the story, although the way he can capture a mood in a few short pages is something to behold.
Review by PilgrimJess
16/06/2015
Despite not being a fan of short stories this is the third such set I have read on the bounce folllowing on from Conan Doyle's Adventures of Sherlock Holmes and Hemingway's Snows of Kilimanjaro. I had hoped that this book would act as an easy introduction to Joyce and his works before tackling one of his novels. I was wrong.Now while I can sit back and admire the overall writing style the book just did not really grab me. Perhaps I am just unable to grasp the subtler symbolism of its message but with each story I felt that it had been just cut off in the middle just as I was finally getting into it.There is a common thread within the book as the main protagonists of each story move from childhood to middle aged to maturity and finally death but the disparate nature of the characters and their backgrounds only added to the confusion I felt.The descriptions of Dublin and its life were very evocative, the characterisation was good and I particularily enjoyed some of the banality of the dialogues although knowing that the book was written while the author was in self-imposedexile seems, to me at least, to bring into question some of its poignancy. That is on the plus side but on the negative was the heavy use of notes, something that I'm loathe to read anyway, throughout the book. Now I realise that this book was written over 100 years ago so some were neccessary. Some meanings I was able to guess without refering to the back while others were totally unnecessary but overall to me they just killed the flow of the story.I am not studying for some examination nor really interested in some in depth study of 19th Century Irish life but am merely reading for pleasure. So perhaps the real truth was that I just had to try to hard to get the message of this book and that is why it didn't really grab me. There is another Joyce book on my To Be Read pile and it may just sit there a good bit longer now.
Also in the Wordsworth Classics series | View all