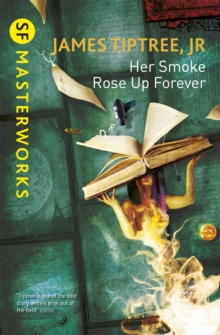 Her Smoke Rose Up Forever
Paperback
Description
For a decade Alice Sheldon produced an extraordinary body of work under the pseudonym James Tiptree Jr, until her identity was exposed in 1977.
HER SMOKE ROSE UP FOREVER presents the finest of these stories and contains the NEBULA AWARD-winning LOVE IS THE PLAN THE PLAN IS DEATH; HUGO AWARD-winning novella THE GIRL WHO WAS PLUGGED IN; HOUSTON, HOUSTON, DO YOU READ? - winner of both the HUGO and NEBULA - and of course the story for which she is best known: THE WOMEN MEN DON'T SEE. This is a true masterwork - an overview of one of SF's true greats at the very height of her powers.
Information
Format: Paperback
Pages: 544 pages
Publisher: Orion Publishing Co
Publication Date: 10/07/2014
Category: Science fiction
ISBN: 9781473203242
Free Home Delivery
on all orders
Pick up orders
from local bookshops
Reviews
Showing 1 - 2 of 2 reviews.
Review by TheCrow2
27/08/2015
I've mixed feelings after reading this 18 short stories because unfortunately there were one or two which were too 'artsy' or 'high-litereature-ish' for me but all the others were pure genius. If you are a fan of a bit more complex and harder-to-digest SF, give it a try you won't regret it.
Review by iansales
27/01/2016
When I first started reading Tiptree back in the late 1970s – it was Ten Thousand Light-Years from Home, originally published in 1973 but my edition was the 1978 paperback – I knew "he" was a woman, but from what I'd read somewhere I thought the pseudonym was in order to protect the author's career with the CIA. It never occurred to me Ali Sheldon used it because she was a woman. Now I know better, of course. In the early 1980s I bounced out of Tiptree's Brightness Falls From the Air, and never quite got back into reading her. Well, at least not with the same fervour as before. I've reread Ten Thousand Light-Years from Home over the years several times, not to mention the odd story in various anthologies, but it wasn't until Her Smoke Rose Up Forever appeared in the SF Masterworks series – deservedly so, I might add – that I really decided to give her a reread in earnest. I would normally review this book for SF Mistressworks, but I've already got a review lined up by someone else; and besides, I've probably reviewed half of the contents in reviews of other anthologies anyway. For the record, not every story in here shines, but a number of them so do very brightly – 'The Screwfly Solution', personal favourite 'And I Awoke And Found Me Here on the Cold Hill's Side', 'The Women Men Don't See', even 'The Man Who Walked Home' (a story which has haunted me since I first read it decades ago). There are stronger collections in science fiction out there, but not many.
Also in the S.F. Masterworks series | View all