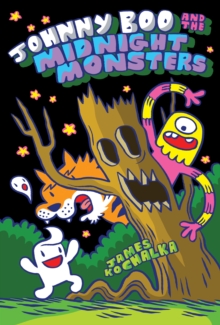 Johnny Boo and the Midnight Monsters (Johnny Boo Book 10)
Hardback
Description
Are you scared of the dark? Did you know that when theclock strikes twelve, that's when the midnight monsters come out?
Johnny Booknows, but that won't stop him from skateboarding on the back of a wild Tigerand plucking pumpkin ice cream from the gaping maw of a Spooky Tree.
He does itall to impress Susie Boom, the cute little girl ghost who lives on the moon. Hopefully she's watching everything with her telescope! "These are the kind ofcomics that win Eisner Awards," says Eisner Award winner James Kochalka. Adapted from two Halloween minicomics thathave been distributed to thousands of trickortreaters through Diamond'sHalloween ComicFest program, together with allnew pages, combined into a singlespooky graphic novella.
Perfect for seasonal Halloween shopping &giftgiving, year after year.
Information
Format: Hardback
Pages: 40 pages
Publisher: Top Shelf Productions
Publication Date: 29/10/2019
Category: Adventure
ISBN: 9781603094573
Also by James Kochalka