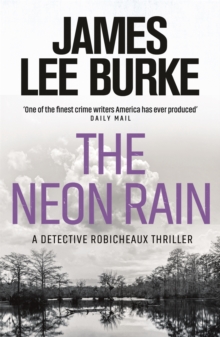 Description
The outstanding first book in the ever-popular Dave Robicheaux series.Introducing the New Orleans detective Dave Robicheaux.Johnny Massina, a convicted murderer bound for the electric chair, has warned Dave Robicheaux that he's on somebody's hit list, and now the homicide detective is trying to discover just who that is before he ends up dead.
Meanwhile he has taken on the murder investigation of a young black girl found dead in the Bayou Swamp - a case no one seems keen for him to investigate.
But Robicheaux persists and uncovers a web of corruption that some would kill to protect, leading him to a terrifying confrontation with the one horror he fears most of all.Praise for one of the great American crime writers, James Lee Burke:'James Lee Burke is the heavyweight champ, a great American novelist whose work, taken individually or as a whole, is unsurpassed.' Michael Connelly'A gorgeous prose stylist.' Stephen King'Richly deserves to be described now as one of the finest crime writers America has ever produced.' Daily MailFans of Dennis Lehane, Michael Connelly and Don Winslow will love James Lee Burke: Dave Robicheaux Series1.
The Neon Rain 2. Heaven's Prisoners 3. Black Cherry Blues 4. A Morning for Flamingos 5. A Stained White Radiance 6. In the Electric Mist with Confederate Dead 7. Dixie City Jam 8. Burning Angel 9. Cadillac Jukebox 10. Sunset Limited 11. Purple Cane Road 12. Jolie Blon's Bounce 13. Last Car to Elysian Fields 14. Crusader's Cross 15. Pegasus Descending 16. The Tin Roof Blowdown 17. Swan Peak 18. The Glass Rainbow 19. Creole Belle 20. Light of the World 21. Robicheaux Hackberry Holland Series1. Lay Down My Sword and Shield 2. Rain Gods 3. Feast Day of Fools 4. House of the Rising SunBilly Bob Holland Series1. Cimarron Rose 2. Heartwood 3. Bitterroot 4. In The Moon of Red Ponies * Each James Lee Burke novel can be read as a standalone or in series order *
Information
Format: Paperback
Pages: 320 pages
Publisher: Orion Publishing Co
Publication Date: 16/06/2005
ISBN: 9780753820339
Free Home Delivery
on all orders
Pick up orders
from local bookshops
Reviews
Showing 1 - 3 of 3 reviews.
Review by reading_fox
16/06/2015
Grimey. Captures life in the seventies New Orleans quite well, complete with the corruption and racial contempt. At times this doens't match the occasionally flowery language.Dave Robicheaux is a black Leutenant in the New orleans police. He mostly enjoys his joba dn is realistic enough to know since his first wife left him, that it is a demanding calling. He's also been ry for the last few years. Just about all the cliche's in one hit for a policeman. During a rare weekend off fishing, he discovers a body floating in the weeds - a young formerly pretty black girl. The local force quickly chalk it up as another druggie drowning, but Dave digs a little deeper and stirs up the interest of the local arms dealers. Despite his friends and relations (brother) with the mob contacts, these characters have little compunction about casual violence and use almost any means to keep their dirty game going. Dave isn't impressed, and sets out to single handedly clean up New Orleans. Fortunetly his Capatin is a decent guy who stands by him. I never really enagaged with this. New Orleans is always a somewhat exotic location and there are a lot of assumptions about local culture that just don't transfer to this side of the pond. The grimy atmosphere remenisicent of Marlow doesn't help either. Some longer tracts of descriptive langaugae -whilst being good for enlightning the mood, don't help the plot along, and I frequently forgot who was betraying whom and why, let aone what the invented motives of the bad guys were supposed to be. There was some involvment with US foreign policy in the South Americas at the time, but that's not just ancient history but foreign history and to me, so I didn't follow what was happening. Dave is hardly charasmatic (cf Reacher to whom he's often compared), but the supporting cast were even worse, the girlfriend particularly unbelivable.I guess this is one for the locals. If you were around at the time, and or knwo the coity and it's history then this was probably (assuming hte author got his facts more or less straight) and interestingrea with local colour (much like Stuart McBride). It I'm not and so - like Elmore Leonard - I'll pass on this series.
Review by ecw0647
16/06/2015
Gets pretty violent but classic Burke.
Review by martensgirl
27/08/2015
I'm quite torn about this book. I did not like the plot, finding it difficult to follow. However, Burke is a fabulous writer, with richly described characters and descriptions of the Deep South that make me want to visit!
Also in the Dave Robicheaux series | View all