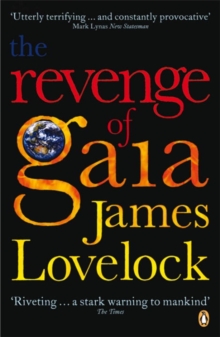 The Revenge of Gaia : Why the Earth is Fighting Back and How We Can Still Save Humanity
Paperback
Description
James Lovelock's bestselling The Revenge of Gaia: Why the Earth is Fighting Back - and How we can Still Save Humanity is a dire warning against the unchecked growth of civilization. 'Despite all our efforts to retreat sustainably, we may be unable to prevent a global decline into a chaotic world ruled by brutal warlords on a devastated Earth...' For thousands of years, humans have exploited the planet without counting the cost.
Now Gaia, the living Earth, is fighting back. As the polar icecaps shrink and the global temperature rises, we approach the point of no return.
Sustainable development, Lovelock argues, is no longer possible, and the only open to us may be a 'sustainable retreat'.
This is the one book you must read to find out what is happening, how bad it will get - and how we can survive. 'The most important book for decades' Andrew Marr 'The most important book ever to be published on the environmental crisis ...
Lovelock will go down in history as the scientist who changed our view of the Earth' John Gray, Independent 'Truly terrifying ...
Lovelock's arguments carry more conviction than anyone else's now writing' Peter Forbes, Daily Mail James Lovelock is the author of more than 200 scientific papers and the originator of the Gaia Hypothesis (now Gaia Theory).
He has written several books on the subject, including Gaia: A New Look at Life on Earth, The Ages of Gaia and The Vanishing Face of Gaia as well as an autobiography, Homage to Gaia.
In September 2005 Prospect magazine named him as one of the world's top 100 global public intellectuals.
Free Home Delivery
on all orders
Pick up orders
from local bookshops
Reviews
Showing 1 - 2 of 2 reviews.
Review by isabelx
16/06/2015
One of the striking things about places heavily contaminated by radioactive waste is the richness of their wildlife. This is true of the land around Chernobyl, the bomb test sites of the Pacific, and areas near the United States' Savannah River nuclear weapons plant of the Second World War. Wild plants and animals do not perceive radiation as dangerous, and any slight reduction it may cause in their lifespans is far less a hazard than is the presence of people and their pets. It is easy to forget now that we are so numerous, almost anything we do in the way of farming, forestry and home building is harmful to wildlife and Gaia. The preference of wildlife for nuclear-waste sites suggests that the best sites for its disposal are the tropical forests and other habitats in need of a reliable guardian against their destruction by hungry farmers and developers.Although I had heard of the Gaia theory, I had not read about it in any detail before so there were quite a few surprises awaiting me between the covers of this book.And are we all doomed? Most likely yes.
Review by ascapola
16/06/2015
For millennia, humankind has exploited the Earth without counting the cost. Now, as the world warms and weather patterns dramatically change, the Earth is beginning to fight back. James Lovelock, one of the giants of environmental thinking, argues passionately and poetically that, although global warming is now inevitable, we are not yet too late to save at least part of human civilization. This short book, written at the age of eighty-six after a lifetime engaged in the science of the earth, is his testament.He argues for nuclear power and highlights the downsides of renewables (lack of reliability, insufficient scope and nasty side effects)