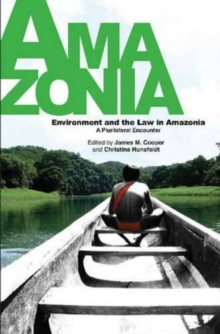 Environment & the Law in Amazonia (HB@PB PRICE) : A Plurilateral Encounter
Mixed media product
Description
Book & CD. There are few topics so large yet so uncovered in the academic literature as the Amazon Basin.
Much of the area that connects nine South American states, hundreds of indigenous peoples, dozens of multinational corporations, and the worlds lungs, remains unexplored and demographic density is still low.
But development throughout the basin has occurred with a ravaging appetite: loggers have decimated parts of the region with their fishbone patterns of extraction; large-scale agribusiness has moved into a power vacuum; coffee and sugar in earlier times -- soya, ranching, and mining industries in more recent times -- have resulted in significant deforestation, releasing carbon dioxide into the atmosphere; and the booms and busts of traditional commodities like rubber latex, nuts and turtle eggs impact negatively on the social and economic structure of the basin.
In the background to these developments there is a resurgence of economic nationalism as countries prepare their futures around a pending crisis over food security and global climate change. Hydrocarbons potentials -- the possibility of oil and gas fields underground in Amazonia -- complicate the situation as indigenous communities, sharecroppers, landless peasants, and others advocate for their respective rights, using ancient methods of protest as well as digital activism through the Internet.
This important book sets out how the Amazon Basins indigenous self-determination meets corporate profiteering, where the future of natural resource stewardship is hotly debated, where subsistence living, extreme poverty, and the vagaries of the international commodities markets are revealed.
The environment and the law is seen to be at the heart of the intersection of sustainable development and unfair trading practices.
Information
Format: Mixed media product
Pages: 292 pages, illus
Publisher: Sussex Academic Press
Publication Date: 21/01/2013
Category: Environment law
ISBN: 9781845195007
Free Home Delivery
on all orders
Pick up orders
from local bookshops