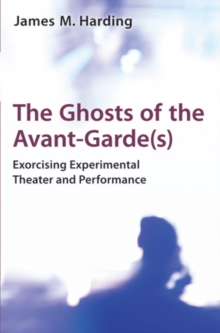 The Ghosts of the Avant-Garde(s) : Exorcising Experimental Theater and Performance
Paperback / softback
Description
The Ghosts of the Avant-Garde(s) offers a strikingly new perspective on key controversies and debates within avant-garde studies and on contemporary forms of avant-garde expression within a global political economy.
At the most basic level, the book challenges pronouncements of the "death of the avant-garde" that tend to obscure the diversity and plurality of avant-garde gesture and expression.
In place of a single history or theory of the avant-garde as such, the book posits the notion of "avant-garde pluralities" as its conceptual point of departure, and demonstrates how an appreciation of this multiplicity can lead to a more dynamic and increasingly global understanding of vanguardism in the performing arts. In pursuing this goal, the book surveys a diverse array of avant-garde performances and develops a range of theoretical paradigms that defend the haunting cultural and historical significance of avant-garde expressions.
James M. Harding revisits iconic sites of early twentieth-century avant-garde performance to examine how European avant-gardists attempted - unsuccessfully - to employ that discourse as a strategy for enforcing uniformity among a politically and culturally diverse group of artists.
He then challenges historical and aesthetic categories that he believes have promoted a restrictive history and theory of the avant-garde and a narrow reading of avant-garde performance.
The book reveals the Eurocentric undercurrents that underlie these categories and urges scholars and historians to consider instead the global political dimensions of avant-garde gestures.
Finally, the book takes up the question of how the frequently announced death of the avant-garde thwarts a fuller exploration of the contemporary forms of vangardism that have emerged within the context of increasingly global political economies. The Ghosts of the Avant-Garde(s) joins other recent studies that call for a radical rethinking of the history and theory of avant-garde performance, but goes further in arguing for the importance of reopening the pivotal controversies and debates that have shaped the field of avant-garde studies.
The book will be of interest to scholars across multiple disciplines, including theater and performance, art history, and literary studies.
It will also appeal to scholars who study the relation of art to politics across a range of historical periods and cultures.
Information
Format: Paperback / softback
Pages: 248 pages, 1 black and white illustration
Publisher: The University of Michigan Press
Publication Date: 30/11/2015
Category: Theatre direction & production
ISBN: 9780472036103
Free Home Delivery
on all orders
Pick up orders
from local bookshops