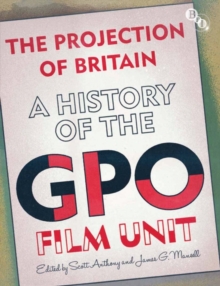 The Projection of Britain: A History of the GPO Film Unit
Paperback / softback
Description
The General Post Office (GPO) Film Unit sat at the creative epicentre of Britain in the 1930s.
It nurtured a vital crop of artistic talent, built a forum for a new kind of cinematic address and created Britain's first self-consciously national cinema.
In 2011, UNESCO added its work to the UK Memory of the World Register, recognising its status as part of Britain's cultural heritage.
Elements of the GPO Film Unit's story are well known: John Grierson's development of documentary cinema; the influence of Mass Observation and Surrealism on its cinematic vision; the Watt-Auden-Britten collaboration Night Mail.
The Projection of Britain: A History of the GPO Film Unit brings together primary materials and critical appraisals to revisit, re-contextualise and revitalise these seminal moments in British cinema.
Here, the insights of an archivist, a musicologist, a design historian, a sports historian, a geographer and a postman - among others - have been edited into a rich critical archaeology of a compelling moment in cinematic history.
Interspersed with these essays are primary materials - memoirs, magazine articles, posters and government documents - that detail everything from Alberto Cavalcanti's vision for the documentary movement to a claim for the clothes Humphrey Jennings lost while shooting on location.
In recent years there has been a resurgence of interest in the GPO Film Unit and its work, on the big screen, in DVD boxsets and on the web.
The Projection of Britain ties together the Unit's diverse artistic, historical and cultural threads into an essential one-stop resource.
Provocative, imaginative and ambitious, this expansive study is the definitive companion to an extraordinary episode in cinematic history.
Information
Format: Paperback / softback
Pages: 352 pages, 352 p.
Publisher: Bloomsbury Publishing PLC
Publication Date: 28/10/2011
Category: Documentary films
ISBN: 9781844573745
Free Home Delivery
on all orders
Pick up orders
from local bookshops